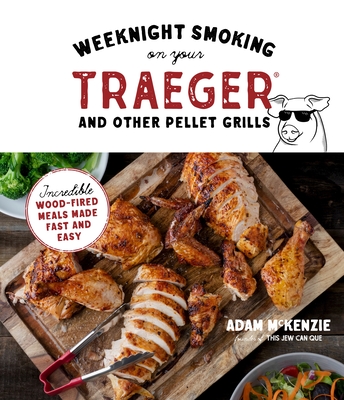 Weeknight Smoking on Your Traeger and Other Pellet Grills
Incredible Wood-Fired Meals Made Fast and Easy
Paperback

* Individual store prices may vary.
Description
Traeger® Cooking - Low on Effort, Big on Flavor

It's easier than ever to enjoy your favorite smoky flavors whenever you want, even on your busiest weeknights. Adam McKenzie is here to show you how to master your Traeger® for meals that are fuss-free and packed with flavor. Teacher by day, king of the grill by night, Adam has learned all the tips and tricks to make Traeger® cooking fit into anyone's busy life. With these brilliant recipes, you'll want to cook with your Traeger® every day! As a bonus, he's adapted traditionally slow-cooked barbecue recipes to be faster and easier using the unique features of pellet grills. Best of all, Adam includes recipes for a variety of meats, perfect for any griller no matter their tastes. In this collection, discover new grilling favorites, such as:

• Smash Burgers
• BBQ Chicken Lollipops
• Festival Flank Steak Sandwiches
• Whole Traegered Chicken
• Wood-Fired Carne Asada
• Buffalo Chicken Burgers
• Colorado Tri-Tip with Santa Maria Salsa
• Grilled Salmon with Spinach Pesto
• Orange, Chipotle & Bourbon Glazed Pork Tenderloins
• Quicker Whole Smoked Brisket

With each delicious recipe, Adam helps to take the stress out of weeknight cooking. Gather your goods, fire up your Traeger® and you'll have a tantalizing barbecue dinner ready in no time.
Praise For Weeknight Smoking on Your Traeger and Other Pellet Grills: Incredible Wood-Fired Meals Made Fast and Easy…
"This is a pellet grill master class from the Denver BBQ King. These recipes are inventive, easy to follow and, most importantly, delicious."
-Mark Anderson, co-host of The Grill Dads

"Adam McKenzie is a master at making barbecue approachable and delicious, even after a busy day."
-Christie Vanover, owner and pitmaster of Girls Can Grill

"For weeknight dinners on the Traeger®, this book is what I'm reaching for. Adam is creative with his flavors and his techniques are reliable. I can count on these recipes when I want to impress my family and friends."
-Jason Ganahl, "Maestro of Meat" and owner of GQue BBQ

"It's great seeing Adam's love for teaching extend outside of the classroom, and with this book there's no doubt that people will learn what it takes to master the art of smoking."
-Pete Taylor, founder & CEO of Spiceology
Page Street Publishing, 9781645673002, 176pp.
Publication Date: May 11, 2021
About the Author
Adam McKenzie is the creator of This Jew Can Que. He has collaborated with nationally recognized brands, namely Traeger® Wood Fired Grills as well as Snake River Farms, Head Country Bar-B-Que and more. He has also partnered with Spiceology to create a line of seasoning blends. Adam lives in Denver, Colorado.