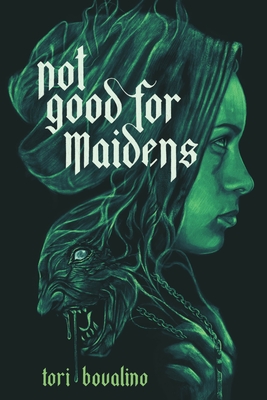 Not Good for Maidens
Hardcover

* Individual store prices may vary.
Description
They'll lure you in with fruit and gems and liquor and dancing, merriment to remember for the rest of your life. But that's an illusion. The market is death itself.

Beneath the streets of York, the goblin market calls to the Wickett women—the family of witches that tends to its victims. For generations, they have defended the old cobblestone streets with their magic. Knowing the dangers, they never entered the market—until May Wickett fell for a goblin girl, accepted her invitation, and became inextricably tied to the world her family tried to protect her from. The market learned her name, and even when she and her sister left York for Boston to escape it, the goblins remembered.

Seventeen years later, Lou, May's niece, knows nothing of her magical lineage or the twisted streets, sweet fruits, and incredible jewels of the goblin market. But just like her aunt, the market calls to her, an echo of a curse that won't release its hold on her family. And when her youngest aunt, Neela, is kidnapped by goblins, Lou discovers just how real and dangerous the market is.

To save her, both May and Lou will have to confront their family's past and what happened all those years ago. But everything—from the food and wares, to the goblins themselves—is a haunting temptation for any human who manages to find their way in. And if Lou isn't careful, she could end up losing herself to the market, too.
Praise For Not Good for Maidens…
"Bovalino doesn't shy away from the market's gory horrors but never lingers, successfully balancing grisly depictions of butchered bodies with Lou's poignant contemplation on her role in the world and her family in this swift-moving and enticing work of horror." —Publishers Weekly, starred review

"A beautifully imagined examination of the bonds that tie sisters, friends, families, and lovers, [Not Good For Maidens] is bursting with empowered women [...] A violent and voluptuous adventure." —Kirkus Reviews

"With equal measures of terror and tenderness, Tori Bovalino crafts a vivid story as alluring as the taste of goblin fruit." – Lyndall Clipstone, author of Lakesedge and Forestfall

"A spellbinding dark fantasy of generational magic and mischief. With haunting prose, this riveting tale will hold you captive like the call of the Goblin Market itself." –Rosiee Thor, author of Fire Becomes Her and Tarnished are the Stars

"A morbid, lyrical, blood-soaked folktale that draws readers in from the very beginning, much the way the market ensnares its victims but with far more pleasant results. Every time I set the book down I couldn't wait to pick it back up again; a must read for those sweltering, sinister summer nights!" – Alice Scott, Barnes & Noble senior bookseller
Page Street Kids, 9781645674665, 352pp.
Publication Date: June 21, 2022
About the Author
Tori Bovalino is the author of The Devil Makes Three. She is originally from Pittsburgh, Pennsylvania, and now lives in the UK with her partner and their very loud cat, Sir Gordon Greenidge II. Tori loves scary stories, obscure academic book facts, and impractical oversized sweaters. She is active on Twitter @toribov.