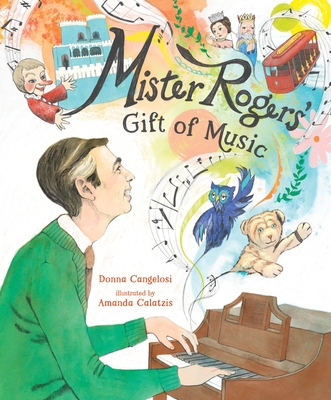 Mister Rogers' Gift of Music
Hardcover

* Individual store prices may vary.
Description
For a young Fred Rogers, music was a gift. It eased the pain of childhood illness and bullying and helped Fred express how he felt when words alone were difficult.

As an adult, he gifted his melodies to the world, showing children by example that they can express themselves, cope with negative feelings, and connect to each other through music.

This sensitive, life-affirming biography not only portrays the life of this beloved TV personality, but focuses on Fred's most memorable songs and musical TV moments, and captures the enduring magic of his music in brilliantly colorful abstract illustration. Readers will not only learn about what music meant to Fred Rogers, but find the encouragement and inspiration to brighten their own lives with song.
Praise For Mister Rogers' Gift of Music…
"Young fans will be tickled by the familiar lyrics and swirling colors, and their grownups will delight in gentle nostalgia. An affectionate tribute to both the remarkable man and his musical legacy." — Booklist, starred review

"The illustrations [...] bring readers into the world of Mister Rogers and his neighborhood of imagination with love and care. The characters, puppets and humans alike, are immediately recognizable and remarkably detailed and accurate. Music shines through the pages [...]" —School Library Journal
Page Street Kids, 9781645674702, 32pp.
Publication Date: August 23, 2022
About the Author
Donna Cangelosi is a child psychologist who, much like Mister Rogers, spends her days working with children to help them understand and process their feelings. She was born in New Jersey and lives there today. In her free time, Donna reads biographies, visits museums, and does yoga. This is her debut picture book.

Amanda Calatzis spent countless days watching Mister Rogers after school when she was growing up. Today, she brings that same warm, comforting feeling into her own art. She previously wrote and illustrated Khalida and the Most Beautiful Song (Page Street Kids). She lives in New York City with her husband, two children, and three dogs, where she spends her days creating art in her studio, playing guitar, and reading as many books as she can.