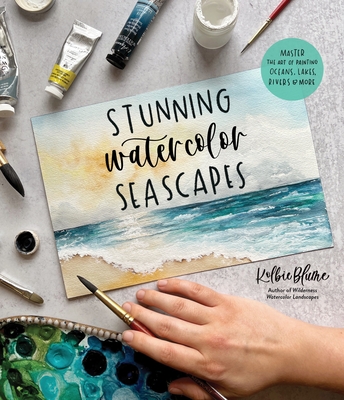 Stunning Watercolor Seascapes
Master the Art of Painting Oceans, Rivers, Lakes and More
Paperback

* Individual store prices may vary.
Description
Breathtaking Watercolor Seascapes for the Beginner Painter

From ocean sunsets and enchanting woodland lakes to snow-speckled rivers and quiet villages reflected in a serene sea, this outstanding collection of paintings from Kolbie Blume teaches painters of all skill levels to master a range of brilliant waterscapes.

Projects like Mountain of a Wave, Through the Fjord, Village by the Sea, Secret Falls and more build your confidence in painting water in all its wild and varied states. The chapters progress in difficulty, with skills building upon each other, helping you to develop and strengthen your abilities as you paint your way through the book.

Providing you with all the tips and tricks you need to master the art of painting waterscapes, Kolbie's approachable step-by-step instructions and helpful hints will guide you from burgeoning beginner to pro painter.
Praise For Stunning Watercolor Seascapes: Master the Art of Painting Oceans, Rivers, Lakes and More…
"Kolbie's ability to break down seemingly complicated projects into easy steps will not only give you the confidence to paint seascapes, but will have you looking at the world around you in a new way!" — SARAH CRAY, artist, illustrator, watercolor instructor, and co-founder of Let's Make Art

"This book will equip you with clear methods to capture all kinds of inspiring ocean scenes. Kolbie's encouraging voice will be there to keep you motivated and reassured every step of the way!" — ROSALIE HAIZLETT, Skillshare Top Teacher, nature illustrator, and bestselling author of Watercolor in Nature

"The tutorials in Stunning Watercolor Seascapes are just that—absolutely STUNNING! This is a must-have book for any watercolor enthusiast!" — DANA FOX, bestselling author of the Watercolor with Me series

"Kolbie generously guides students through an array of projects that are certain to have even the most novice of artists amazed at what they're able to create. If you're keen to paint lovely seascapes, look no further—this is the book for you!" — CARA ROSALIE OLSEN, artist and author of Botanical Watercolor Painting for Beginners

"I've been a fan of Kolbie's watercolor work for years now. Her systemized teaching approach will make everyone an expert, and if you want to create some watercolor masterpieces, I'd highly recommend this amazing tutorial book!" —JOSIE LEWIS, artist, speaker, and author of The New Color Mixing Companion
Page Street Publishing, 9781645674801, 192pp.
Publication Date: May 17, 2022
About the Author
Kolbie Blume is the author of Wilderness Watercolor Landscapes and the creator of the popular watercolor and calligraphy Instagram account This Writing Desk. She also teaches watercolor workshops and classes on Skillshare. She lives in the DC-Metro area with her family.