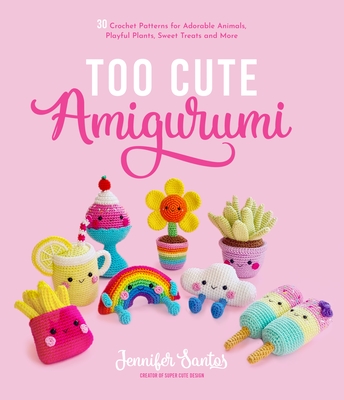 Too Cute Amigurumi
30 Crochet Patterns for Adorable Animals, Playful Plants, Sweet Treats and More
Paperback

* Individual store prices may vary.
Description
Crochet Colorful, Captivating Amigurumi With Ease!

Get ready to discover just how adorable crochet can be as you take your amigurumi skills up a stitch with 30 perfect projects that are bursting at the seams with cuteness. Jennifer Santos, founder of the aptly-named Super Cute Design, is known in the crochet community for her intricate and colorful amigurumi patterns. Now she's sharing all of her knowledge and enthusiasm for the craft in this fantastic collection, so you can crochet your own menagerie of charming dolls with confidence.

Whether you're a complete crochet beginner looking to dive into a new craft or a seasoned amigurumi master on the hunt for new and exciting patterns, Jennifer has you covered every step of the way. Practice her best tips for tackling tricky elements such as changing colors seamlessly, successfully stuffing and assembling your amigurumi and the secrets behind the invisible decrease as you crochet your way through playful patterns like:

• Magical Unicorn Popsicle
• Wonderful Watermelon
• Good Luck Raindrop
• Sour & Sweet Lemonade
• Aloe-You-Vera Much
• Donut Worry Turtle
• Sweet Succulent Family
• And so many more!

So what are you waiting for? Grab your hooks and your brightest yarn and get ready for some seriously cute crochet. You—and your amigurumi!—are sure to be smiling every stitch of the way.
Praise For Too Cute Amigurumi: 30 Crochet Patterns for Adorable Animals, Playful Plants, Sweet Treats and More…
"You know that feeling: The day is gray and gloomy and so is your mood, you are scrolling your Instagram feed and suddenly colorful cuteness pops up and draws a bright rainbow over your mental horizon. This rainbow has an adorable little face and is smiling at you—and suddenly you are smiling back. This is exactly the kind of magic that is inherent in Jennifer's super cute amigurumi designs—and now that magic is highly concentrated here in one book! Who can resist making these 30 super kawaii creatures radiating positivity with every stitch? Too Cute Amigurumi is your daily dose of crochet happiness, and it will have you looking forward to the next gray day, which you can chase away with a fun crochet project from this lovely book!"
—Lydia Tresselt, creator of Lalylala Crochet


"Bright, colorful, and adorable designs fill the pages of Too Cute Amigurumi. With tons of clear photos and lots of easy-to-read written instructions, you will be blown away at all you can create! I'm a huge fan of Jennifer's crochet cacti and was thrilled to see an entire chapter dedicated to them. So grab your crochet hooks and get ready to smile while you stitch!"
—Sarah Zimmerman, author of Crochet Cute Critters and founder of Repeat Crafter Me


"When I discovered crochet, Jennifer was one of the first designers I was instantly attracted to. Her use of bright, cheery colors and adorable kawaii aesthetic is what makes her unique designs pop! Too Cute Amigurumi is sure to appeal to crochet lovers around the world and attract those who don't already crochet to pick up this craft.
—Erinna Lee, author of Amigurumi Treasures
Page Street Publishing, 9781645675006, 152pp.
Publication Date: March 22, 2022
About the Author
Jennifer Santos is the founder of Super Cute Design, an online store where she sells her amigurumi patterns. Her work and patterns have been featured by Simply Crochet magazine, Inside Crochet magazine and Mollie Makes magazine. Jennifer currently lives in Gothenburg, Sweden with her husband and two children.