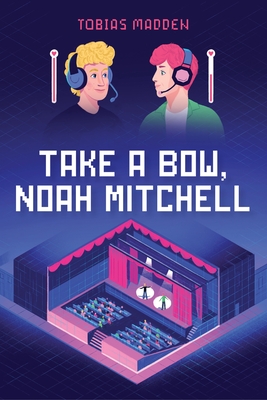 Take a Bow, Noah Mitchell
Hardcover

* Individual store prices may vary.
Description
There Are No Cheat Codes for Showmance

Seventeen-year-old gaymer Noah Mitchell only has one friend left: the wonderful, funny, strictly online-only MagePants69. After years playing RPGs together, they know everything about each other, except anything that would give away their real life identities. And Noah is certain that if they could just meet in person, they would be soulmates. Noah would do anything to make this happen—including finally leaving his gaming chair to join a community theater show that he's only mostly sure MagePants69 is performing in. Noah has never done anything like theater—he can't sing, he can't dance, and he's never willingly watched a musical—but he'll have to go all in to have a chance at love.

With Noah's mum performing in the lead role, and former friends waiting in the wings to sabotage his reputation, his plan to make MagePants69 fall in love with him might be a little more difficult than originally anticipated.

And the longer Noah waits to come clean, the more tangled his web of lies becomes. By opening night, he will have to decide if telling the truth is worth closing the curtain on his one shot at true love.
Praise For Take a Bow, Noah Mitchell…
"Take A Bow, Noah Mitchell is one of the best books I've read all year. This is a charming gay YA rom-com bursting with heart and loaded with humour, but it transcends romance: at its core, this is a brilliantly-written coming-of-age tale about all the bruises and blessings that come with growing up. Noah and Eli are real, vulnerable characters that readers will fall in love with. With this book, Tobias Madden has cemented his place as one of the new powerhouses in Australian YA fiction and I can't wait to read what he writes next. Outstanding!"
—Holden Sheppard, author of The Brink and Invisible Boys

"A swoony showstopper of a story about theatre and the things that help us find our people (and ourselves). It's funny, fearless and so very heartwarming. Take a Bow, Noah Mitchell is a showmance I didn't want to ever end. I loved it!"
—Rhiannon Wilde, author of Henry Hamlet's Heart

"Take A Bow, Noah Mitchell is a delightful coming-of-age story that filled my stomach with all the butterflies I could ever want from a YA rom com. It does not shy away from the real stuff, but having the chance to follow Noah through this tricky, awkward, lovely part of his life left me with such an overwhelming sense of joy. It is sharp, tender, witty, surprising – all the things! And a reminder of how good life can be when you push (or are pushed) outside your comfort zone."
—Kay Kerr, author of Please Don't Hug Me and Social Queue

"Finally! This is the gaymer/stage novel we've been waiting for. Exhilaratingly magical, excruciatingly real, and as enchanting as an elven bard."
—Anna Whateley, author of Peta Lyre's Rating Normal
Page Street Kids, 9781645677062, 384pp.
Publication Date: January 3, 2023
About the Author
Originally from Ballarat, Tobias worked for ten years as a dancer, touring Australia and New Zealand with musicals such as Mary Poppins, CATS, Singin' in the Rain, and Guys and Dolls. He now lives in Sydney with his husband, Daniel, and their Cavoodle, Ollie. In 2019, Tobias edited and published Underdog: #LoveOzYA Short Stories, which featured his first published work, "Variation." He is also the author of Anything But Fine. He also co-wrote the cabaret show Siblingship, which played to sold-out audiences around Australia. Tobias is a passionate member of the #LoveOzYA and LGBTQ+ communities, and he currently works part-time in theatre marketing.