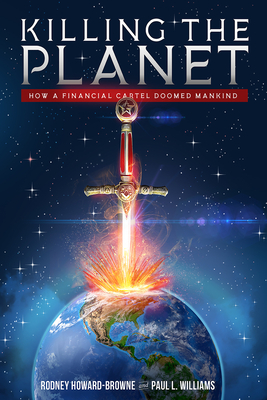 Killing the Planet
How a Financial Cartel Doomed Mankind
Hardcover

* Individual store prices may vary.
Description
In Killing the Planet: How A Financial Cartel Doomed Mankind, best-selling authors Rodney Howard-Browne and Paul L. Williams investigate the true motives and consequences of the Pilgrim Society. Early members of the Society included J. P. Morgan, Andrew Carnegie, Andrew Mellon, Cornelius Vanderbilt, Paul Warburg, Mortimer I. Schiff, Otto Kahn, and John D. Rockefeller. Although the Pilgrim Society and the powerful men involved are often praised for their philanthropic actions, Howard-Browne and Williams show that the Society was self-serving and subjected the American people to a brutal system of economic tyranny, one which is still in place today. As a sequel to The Killing of Uncle Sam, Killing the Planet is a thoroughly documented and impeccably researched book, with over 1,500 footnotes. It shows how mankind has become enslaved within the Luciferian world system that is managed and controlled by the world's wealthiest families. The book is not full of conspiracy theories but instead, unfortunately for all of humanity, full of gut-wrenching facts.
Praise For Killing the Planet: How a Financial Cartel Doomed Mankind…
"Killing the Planet lays out, in detail, the evolution of financial control that has enabled central acquisition of power and control that is leading us all down the path of ruin and loss of freedoms." —William E Binney, former Technical Director NSA, Whistleblower, agoodamerican.org, Maryland, USA

"Killing the Planet documents and blatantly exposes the countless ongoing crimes against humanity around our world, compiling endless accounts, of these Luciferian demigods, lies, treachery and treason." —Brent M P Beleskey, Producer & Investigative Researcher, spytheatre.com, Ontario Canada

"This riveting account of the inter-generational theft, of our living planet, is nothing short of breathtaking. This book reveals much more than the stockpiling of the earth's wealth, by a handful of charlatans, it exposes the capitulation of humanity to the notion, society is protected and guided by rule of law and transparency. Killing the Planet explains how it happened, with startling clarity. Be prepared to be angry, as the greatest hoax ever perpetrated against humanity, is revealed." —Bill Majcher, former RCMP Inspector Integrated Market Enforcement Teams, Hong Kong

"Killing the Planet is not conspiracy theory, but a documented history of Luciferian control and greed. The authors have brilliantly pulled back the 'men behind the curtain.' This should be mandatory reading, by every human, who believes in God and the power of good over evil." —Robert O'Dowd, Marine veteran, author Treachery: Murder, Cocaine, and the Lucifer Directive, arrowair1285.com, New Jersey, USA

"This well-written and eye-opening book shines a light on the globalist monopoly, men who live in dark obscurity, while pulling the strings. They are authoritarians, who are engineering and undermining our nation's sovereignty. This isn't conspiracy theory, it's conspiracy fact." —Ben Garrison, Independent Political Cartoonist, Northwest Montana USA

"The perpetuation of the communist agenda, disguised by the virtue signaling, social justice warrior class, is wounded, but it is nowhere near dead. Our planet, however, is dangerously close. Killing the Planet exposes the trap that free people everywhere are one election, one financial disruption, from having sprung shut, on their lives and the future of their families." —John B Wells, Talk Show Host, caravantomidnight.com & arkmidnight.com, Texas, USA
Republic Book Publishers, 9781645720003, 496pp.
Publication Date: November 5, 2019
About the Author
Dr. Rodney Howard-Browne is one of the founders of Revival Ministries International, The River at Tampa Bay Church, and River Bible Institute. He along with his wife, Adonica, hosts the annual Celebrate America DC event at the Daughters of the American Revolution Constitution Hall and other outreach activities. In July 2017, he was invited to the White House and was asked to pray for President Donald Trump. Following his visit, Dr. Rodney launched a 24/7-prayer initiative for the President and the nation. Today, his influence continues to expand. He has over 4,455,706 views on YouTube, a Facebook following of over 152,700 with weekly posts reaching close to 3 million, and over 45,500 followers on Twitter and Instagram combined. His Great Awakening Broadcast airs six nights a week on CTN to an estimated audience of over 70 million households. Paul L. Williams is a journalist and the author of 15 books, including Among the Ruins: The Decline and Fall of the Roman Catholic Church, Crescent Moon Rising: The Islamic Transformation of America, The Unholy Alliance between the Vatican, the CIA, and the Mafia, which is being made into a movie series for AMC Network. He is the winner of three first-place Keystone Press Awards and has written articles for major news outlets, including USA Today, The Wall Street Journal, NewsMax, The Counter-Terrorist, and National Review. He holds a Ph.D. in philosophical theology from Drew University and has served as a consultant on organized crime and international terrorism for the FBI, and an adjunct professor of theology, humanities, and philosophy.