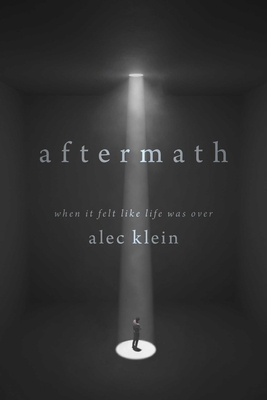 Aftermath
When It Felt Like Life Was Over
Hardcover

* Individual store prices may vary.
Description
For years, Alec Klein investigated cases where people faced the nightmare of wrongful accusations. Suddenly, he found himself on the other side, falsely accused himself. In a coordinated media attack, he was accused of misconduct as a professor at a top U.S. university, and in a rush to judgment, before he had a chance to defend himself, his life was destroyed. What happens when you have little hope? In the aftermath, Alec gravitated to the unlikeliest of places, among the unlikeliest of people, doing the unlikeliest of things. This is a first-person true story about faith, forgiveness and redemption.
Praise For Aftermath: When It Felt Like Life Was Over…
"This moving and compelling account of how it feels to be victimized by abusers of the '#me too movement' demonstrates why it is important for ALL victims to speak out— victims of sexual abuse as well as victims of false accusations of sexual abuse." —Alan Dershowitz, author of Guilt by Accusation: The Challenge of Proving Innocence in the Age of #MeToo

"Heartbreaking. Poignant. Enlightening and Healing. What happens when a person's is destroyed by a vindictive false allegation, losing nearly everything built over a lifetime? Is there a way forward? Alec Klein's soul-searching book, Aftermath takes its reader on a roller coaster ride to the depths of shattering despair and then rises like a Phoenix through faith and determination to a new beginning. This book is a must read for anyone who has endured the nightmare of a false allegation, or knows someone who has." —Shelley S. Dempsey, Esq., board director, Families Advocating for Campus Equality

"Reading Aftermath is a powerful and emotional experience. Alec Klein's story made me cry and then smile as it becomes clear that we all can have grace and opportunities to help others and, in the process, feel the hand of God in our lives." —John LeBoutillier, former Congressman and bestselling author

"Wow. Aftermath offers fresh new evidence that once again love conquers hate and that good triumphs evil. Alec Klein provides a raw peek into his soulful journey from begging to gulp his last breath to discovering the ultimate path of redemption. For anyone who has ever lost faith or never found it, this book sirens a powerful resurrection of hope in the unseen forces available to each of us." —Kevin Armstrong, former newspaper editor and founder of OKJ2 - Oklahoma Journalists for Justice

"Alec Klein's story is proof that anyone who dares to trust God with their seemingly impossible circumstances will most certainly receive more than he or she can ask or think from the One who is forever faithful to His Word." —Stacie L. Jennings, founder, Vision Communications Creative Services

"Raw, haunting, mesmerizing...Aftermath is a must-read for anyone who has wondered how false accusations impact the innocent. Whether you have endured similar circumstances or are new to the world of the wrongfully accused, Alec's powerful story will resonate deeply long after the final page has been turned." —Kate Parker, a falsely accused mother who gained her freedom with Alec Klein's investigative help

"The word 'aftermath' usually hints at destruction and despair. That is certainly what happens to Alec Klein following false accusations and a flawed 'internal' institutional investigation. His story is a deeply personal witness to the pull of God's grace that is present even before we have words to speak of it. Alec follows grace's pull into work with people who are in prison with no hope. Out of his own hopelessness, he puts one foot in front of the other, not knowing where it will lead, bringing hope to himself and to those he continues to work for so diligently and with such love. I am grateful to have spent time with Alec in Oklahoma, and now, to hear the continuing witness of his story." —Lynn Christophersen Woodward, prisoner rights activist

"The book is riveting from beginning to end, and I'm amazed at the courage and openness of Alec Klein and the journey between pain and purpose. I urge people who are looking for hope to read it." —Rhonda Bear, founder of His House Outreach Ministries and program director for Stand In the Gap Ministries

"Alec is such a great writer. In Aftermath, he's so funny at his own expense, as much as his story broke my heart, the extreme silent suffering that he took on. The lesson in the book is amazing—about kindness and forgiveness. He's been through hell and back. What also comes through in the book is his vast knowledge of criminal justice, and his experience with prisons and offenders made Another Chance Justice Project go from a really good idea to a well-established and respected team of freedom fighters. Alec's commitment and leadership made our purpose clear with intent. I learned about the criminal system—the good, the bad and the ugly—but the best lesson I learned from Alec was how words of truth can actually set people free." —Trish Davis, co-director, Another Chance Justice Project

"Aftermath is a page-turner. Alec Klein writes with passion and power, candor and compassion, heartache and humor about his personal transformation after his career came to an abrupt end. I laughed; I cried; I learned. Aftermath is an essential read for anyone concerned about the excesses of Title IX on college campuses today—and curious about the journey to creating a new life from the depths of despair. Unforgettable." —Cynthia Hanson, veteran journalist and feature writer for national women's magazines

"[Alec Klein] holds nothing back as he shares his often-humiliating journey from the depths of despair to a newfound life of faith in God, who indeed gives beauty for ashes to all who seek the truth that will set them free." —Renee Relf, founder, Dreams Realized Productions and author of Accused

"Alec's witty style and engaging story impelled me to turn the pages. The injustice is crushing, the journey toward hope is uplifting and encouraging..." —Vicki Thorp, a former associate pastor

"Aftermath is a searching, and searing, portrait of life in modern day exile. Klein accomplishes the near-impossible—he relays an emotionally eviscerating experience with intellectual clarity, makes a compelling case for his innocence, and explores profound and nuanced themes of great social importance, all in crisp and accessible prose. Anyone who wants to understand the collateral consequences of trial-by-Twitter—a defining feature of our current cultural and political landscape—should read this book." —Jonathan Kaiman, writer and former Beijing Bureau Chief for the Los Angeles Times

"I have hope for others when you see how Alec Klein stood again, despite what he went through, an unfair, life-shattering and horrible situation. He uses wit and humor to keep the reader engaged and teach us determination and faith can turn around our lives." —Dawna Mosburg, prison reform advocate and former school principal

"Aftermath is intense, written with passion and courage. As Alec Klein went through storms in his own life, he continued to fight for justice for others who have been wrongfully accused or excessively sentenced." —Kathy Peacock, founder, Jehovah Jireh Women Christian Recovery Center and program manager for Stand in the Gap Ministries

"Aftermath is a must read for everyone. It's a prime example of just how devastating false accusations can destroy and disrupt anyone's life. You're sadly mistaken if you think you're invincible; trust me, it can happen to anyone, even you." —Michelle Murphy, the first and only woman in Oklahoma history to be exonerated after being wrongfully convicted of a murder she didn't commit and serving 20 years of a prison sentence of life without parole

"Aftermath contains chilling details of how basic decency was brushed aside in the search for culprits, but also a lesson that the shunned have value. Klein's resilience, thoughtfulness, and concern for others should give pause to those who advocated for MeToo's punitive nature." —Michael Tunison

"The story is really interesting. It's not the traditional apologetics book, but it could speak to a class of skeptic out there. Give it a try." —Nick Peters, Deeper Waters
Republic Book Publishers, 9781645720096, 224pp.
Publication Date: May 22, 2020
or
Not Currently Available for Direct Purchase