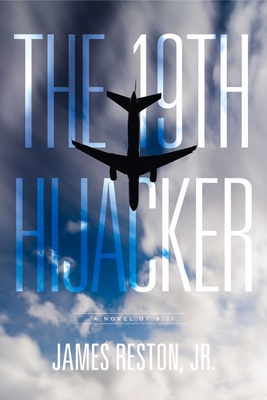 The 19th Hijacker
A Novel
Hardcover

* Individual store prices may vary.
Description
Everyone knows what happened on September 11, 2001. But do we really know what was behind this act of war? What was the lure? What was it about the Hamburg cell that appealed to him? What lured this educated son of a successful Lebanese family to the jihadist message of destruction and annihiliation that would result in the death of 3170 Americans? These questions torment Sami Haddad as he pondered his choice, in August of 2001, whether or not to join the 9-ll hijackers. Through a series of tape recordings which Sami had made in the months before the operation, he tells his beautiful and feisty Turkish-German lover, Karima Ilgun, of his first meeting with Muhammad Atta in Hamburg, of his training in Afghanistan under the watchful eye of Al Qaeda's military chief, of his meeting with Osama bin Ladin where he swears his oath of allegiance, and of his final months of preparation in Florida where he comes to loath Muhammad Atta but cannot find the courage to flee. A sense of doubt and skepticism suffuses his musings to her, but also of weakness.
After the attack on 9/11, Kommissar Recht, a rumpled German government investigator), is tasked to ferret out Karima's role, if any, as an Al Qaeda operative. He comes to suspect that she is withholding valuable evidence, but under German privacy law he is barred from employing strong-arm tactics that would force her to talk.
Surviving members of the Al Qaeda cell in Hamburg also suspect Karima is hiding Sami's tapes. To them Sami's recollections are sacred artifacts of what they deemed to be their successful mission, but they fear his presentation of the attack might be something less than heroic. Karima is caught between these two forces, either of which could have terrible consequences for her. How she resolves this dilemma is the climax of the novel.
Praise For The 19th Hijacker: A Novel…
"[Reston] imagined himself into the mind of The 19th Hijacker with such courage and writerly abandon, his book will leave you breathless. A masterpiece." —Lucian Truscott IV, author of Dress Gray

"The 19th Hijacker will inform and surprise readers with an original perspective that only a writer with Reston's wide range of scholarship can provide." —Brent Glass, Director Emeritus, National Museum of American History, Smithsonian Institution

"The book is well worth reading. It helps its reader to understand the events of 9/11 and also offers a glimpse into the minds of men like Haddad, who commit acts of terrorism because they are compelled by political or religious conviction, perceived injustice, and sometimes even the belief that they are paving the way to a better world." —Stephen Brooks, Rappahannock News

"Despite its sad and grim subject matter, The 19th Hijacker is a thoroughly involving novel, with a very skillful balance achieved between its handful of plot-strands." —Steve Donoghue, Vineyard Gazette
Republic Book Publishers, 9781645720201, 288pp.
Publication Date: February 23, 2021
About the Author
James Reston, Jr. is the author of 18 books, two of which are novels. He taught fiction writing in the creative writing program at the University of North Carolina for ten years. Among his books are three works that deal with the clash of Christianity and Islam in history: Warriors of God, Dogs of God, and Defenders of the Faith. Warriors of God is an international best seller that has been translated into thirteen languages. The author was trained in the recruitment of foreign agents in Army intelligence during the Vietnam War era.