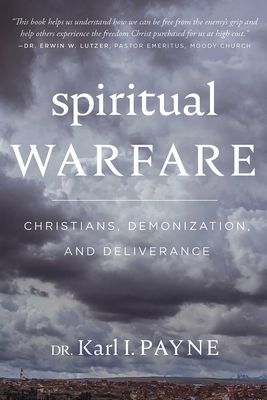 Spiritual Warfare
Christians, Demonization and Deliverance
Paperback

* Individual store prices may vary.
Description
Updated edition with two new chapters!

The Bible is clear that we face three different types of opposition while attempting to successfully navigate life as Ambassadors for Christ. Our opposition is identified in Scripture as "the world" (1 John 2:15-17), "the flesh" (Romans 7:15-25), and "the devil" (1 Peter 5:8-9). The sad reality is that too many Christians lose more battles than they win and endure their walk with God rather than enjoy it because they often don't recognize how opposition through spiritual warfare actually works.

More importantly, they have no idea how to effectively and efficiently respond to these attacks. Scripture nowhere indicates that a wish, a hope, a cliché, or a sincere guess represent adequate responses to attacks from these three very real enemies. Christians must be strategic in their responses to these clearly defined enemies, learning how to fight biblically rather than just sincerely.

In Spiritual Warfare, Dr. Karl Payne—pastor of Leadership Development and Discipleship at Antioch Bible Church and former Chaplain for the NFL's Seattle Seahawks—has written a guidebook for recognizing and responding to spiritual warfare that is simple, biblical, and transferable. Pragmatically speaking, the materials in this book are biblically sound, battle tested, and they work.

As Christians we are supposed to live life as victors, not victims. It is past time we learn how to consistently walk our talk in the midst of conflict rather than passively sing songs or daydream about courageous Christian living.
Praise For Spiritual Warfare: Christians, Demonization and Deliverance…
"…This book is not a theoretical discussion, but a practical guide on ministering to those who are victimized by the enemy." —Clinton E. Arnold, Dean And Professor Of New Testament, Talbot School Of Theology (Biola University)

"…This book helps us understand how we can be free from the enemy's grip and help others experience the freedom Christ purchased for us at high cost." —Dr. Erwin W. Lutzer, Pastor Emeritus, Moody Church, Chicago, Il

"…This book is a treasured addition to my library and I would recommend it as required reading for everyone in the Church who desires to know how to be a victorious overcomer." —Janet Parshall, Nationally Syndicated Talk Show Host

"Spiritual Warfare: Christians, Demonization and Deliverance was given to me by my mother, Anne Graham Lotz…This book is Biblically based and very practical in its application. I highly recommend this book to pastors, seminary students and laymen." —Jonathan Lotz, Evangelist, Minister, Coach
Republic Book Publishers, 9781645720263, 256pp.
Publication Date: January 4, 2021
About the Author
Dr. Karl Payne received his Masters of Divinity (1980) and Doctorate of Ministry (1996) from Western Seminary, Portland. For over 40 years, Payne has trained people through his discipleship and apologetic materials. He serves as the Pastor of Leadership Development at Antioch Bible Church, is the Founder of the Transferable Cross Training Foundation, and served as the chaplain for the Seattle Seahawks from 1994-2015.