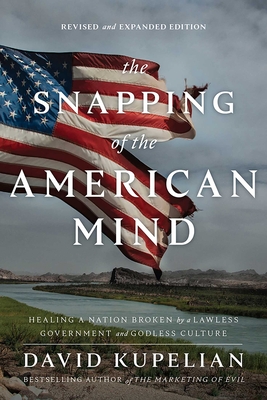 The Snapping of the American Mind
Healing a Nation Broken by a Lawless Government and Godless Culture
Paperback

* Individual store prices may vary.
Other Editions of This Title:
Hardcover (10/13/2015)
Description
In The Snapping of the American Mind, veteran journalist and bestselling author David Kupelian shows how the progressive Left—which today dominates America's key institutions, from the news and entertainment media, to education, to government itself—is accomplishing much more than just enlarging government, redistributing wealth, and de-Christianizing the culture. With the Left's wild celebration of sexual anarchy, its intimidating culture of political correctness, and its incomprehension of the fundamental sacredness of human life, it is also, whether intentionally or not, promoting widespread dependency, debauchery, family breakdown, crime, corruption, addiction, despair, and suicide. Surveying this growing chaos in American society, Kupelian exposes both the utopian revolutionaries and their extraordinary methods that have turned America's most cherished values literally upside down—to the point that madness is celebrated and normality demonized.
Republic Book Publishers, 9781645720362, 320pp.
Publication Date: March 21, 2022
About the Author
David Kupelian is an award-winning American journalist, vice president, and managing editor of online news giant WorldNetDaily, editor of Whistleblower magazine, and a widely read columnist. The author of two influential books—The Marketing of Evil, published in 2005, and its 2010 sequel, How Evil Works— Kupelian has been featured on Fox News, MSNBC, C-SPAN, CBN, and many other TV and radio venues.