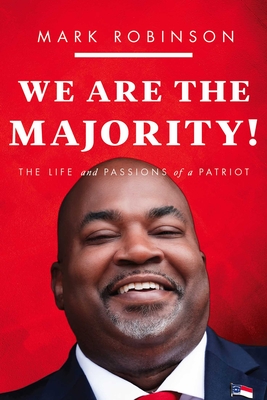 We Are The Majority
The Life and Passions of a Patriot
Hardcover

* Individual store prices may vary.
Description
Here is the remarkable journey of faith, grit, clear-thinking, and powerful expression that propelled Mark Robinson from the depths of poverty to a political awakening as a conservative who would ultimately become the first black lieutenant governor of North Carolina. It's a story filled with lessons and inspiration, as well as a loving evocation of Robinson's childhood, and his blue-collar, working man's path through the economic ravages wrought by NAFTA and unthinking globalism. Most of all it is the story of a man speaking for us, for the majority of Americans who have built a country on common sense and sacred individual rights.
Robinson entered the once-thriving, blue-collar workplace in North Carolina's Piedmont—only to run up against the ravages of NAFTA as it decimated American manufacturing. These hard times served as a wake-up call for Robinson who realized that he was a Republican and a conservative at heart—and had always been so. It was a conviction that led to a successful run against all odds for the lieutenant governorship and launched a powerful voice for a return to faith, decency, common sense, and liberty across America. Here is Mark Robinson's story.


Praise For We Are The Majority: The Life and Passions of a Patriot…
"Mark Robinson recognized that the way out of poverty was through the American Dream. We Are The Majority is the story of his life and the story of a lifetime—the story of what and who an American politician needs to be and what he needs to stand for." —Candace Owens, Political Commentator and Talk Show Host

"From Junior ROTC to the office of Lt. Governor of North Carolina, Mark Robinson's journey is a truly American one. We are the Majority is the story of a Patriot who would not be cowed by the mob. We need a thousand more like Mark. Find out why in his own words." —Sebastian Gorka Ph.D., host of AMERICA First, former Strategist to President Trump

"Mark is the quintessential American success story. A principled leader and gifted orator, history will prove We Are The Majority to be an early, inspiring and moving chapter in Mark's bright and unlimited future." — Wayne LaPierre, NRA CEO

"Mark Robinson grabbed my attention from the moment I heard his passionate speech about liberty and freedom. His incredible story will inspire and motivate you to create change, not simply talk about it." —Dan Bongino, Political Commentator and Talk Show Host

"Lt. Gov. Mark Robinson is truly a trophy of God's grace, a man to be admired for his courage,righteousness and justice, who stands stands firm for many of the values we fight for every day in our nation's capital and across America, the principal one being the value of every human life. He often comes across more like an Old Testament Prophet than 21st century politician. Mark's book will make you want to cheer for joy." —Tony Perkins, President, Family Research Council

"Mark Robinson embodies the true spirit of rugged individualism, defiant independence, goodwill, decency and the beautiful ballet of We The People that defines the American dream. We are the Majority; The Life and Passions of a Patriot celebrates his amazing life story from childhood through his military service and his indefatigable fight for God, family and country. As Lieutenant Governor of North Carolina, Mark represents what many of us believe to be the most powerful, unstoppable voice for conservative values in the world today. Every American who wants to be a positive force for good should read this book and share it with everyone they know." —Ted Nugent
Republic Book Publishers, 9781645720515, 256pp.
Publication Date: September 27, 2022
About the Author
Mark Robinson grew up poor in Greensboro, North Carolina, as the ninth of ten children in a small green shingled house with a red roof. In 2018, his life changed as he stood up against the Greensboro City Council in a fiery and common-sense speech against a senseless gun control measure which has since garnered over 150 million views. It was a speech which propelled him into politics where he ultimately became the first black lieutenant governor of North Carolina and a national conservative voice for decency and freedom. Robinson resides in Greensboro with his family.