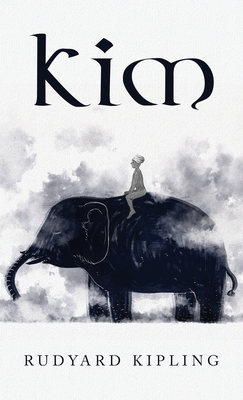 Kim
Hardcover

* Individual store prices may vary.
Other Editions of This Title:
Paperback (1/28/2009)
Paperback (11/8/2019)
Paperback (3/30/2014)
Paperback (3/6/2015)
Paperback (8/26/2020)
Paperback (1/29/2021)
Paperback (8/9/2012)
Paperback (4/29/2017)
Paperback, French (6/22/2015)
Paperback (6/29/2013)
Paperback (10/7/2013)
Paperback (12/12/2017)
Paperback, German (10/23/2012)
Paperback (9/10/2012)
Paperback (1/29/2021)
Paperback (8/14/2020)
Paperback (6/20/2020)
Paperback (2/12/2021)
Paperback (7/13/2016)
Description
Ranked as one of the best English language novels of the 20th century, "Kim" by Rudyard Kipling is a story of unexpected friendship in a world that favors travel, adventure, and racial division. Kipling was born in India, which has influenced many of his works, but "Kim" is regarded as one of the most honest portrayals of the people, culture, and religions of India.
"Kim" takes place after the Second Afghan War, during the period of time when political conflicts between Russia and Britain were high as the two great powers fought for claim over Central Asia. Kim, the orphaned son of an Irish soldier and a poor mother, lives a meager existence in India under British rule. He is forced to grow up quickly, earning his keep on the streets by beginning and running errands for locals. Because of this, few notice that Kim is a white child.
On one of his adventures, Kim meets a Tibetan lama who seeks Enlightenment at a river who no one knows the location of, the legendary "River of the Arrow." Kim decides to help him find this mystery river, but on the way, is recruited to carry secret messages to the head of British intelligence. This begins his descent into secret service, and Kim ends up in a whirlwind of imperialism, spirituality, and racism. Even with his goal of reconciling warring societies, Kim never forgets the Tibetan lama's goal of Enlightenment.
Considered one of Kipling's masterpieces, Kim is critically acclaimed for its lifelike portrait of India, including its varied religions and superstitions, and is a poignant tale that calls for soul-searching.
Athanatos Publishing Group, 9781645940692, 254pp.
Publication Date: June 29, 2020