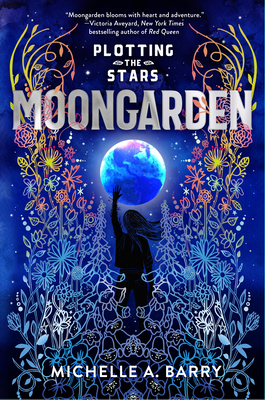 Plotting the Stars 1
Moongarden
Hardcover

* Individual store prices may vary.
Description
"Moongarden blooms with heart and adventure. A stellar update of The Secret Garden, woven with a little science-fiction, a lot of magic, a vibrant heroine, and a plucky robot sidekick to rival R2D2." —Victoria Aveyard, New York Times bestselling author



The Secret Garden meets The City of Ember as an unlikely heroine confronts loneliness and crippling parental expectations, finding her seed of courage to weed out an intergalactic government conspiracy tied to failed climate change policy in this STEM-inspired series starter.


Centuries ago, Earth's plants turned toxic, rendering life on the planet impossible, and humanity took to space to cultivate new homes. Myra Hodger is in her first year at an elite school on the Moon to train and develop her Creer in math as a Number Whisper—like her famous Number Whisperer parents. But she's crumbling under the pressure, she doesn't fit in, and worst of all, the tattoos that signal her Creer growing aren't developing. In her heart, she knows she doesn't have a Creer, and soon, everyone else will, too.

Wandering the school while cutting class one day, she discovers a secret lab hidden behind one of the unused classrooms, and beyond that, a secret garden overflowing with plants. Dangerous toxic plants.

But as Myra learns the garden isn't a threat, she begins to wonder if she does have a Creer—one that died out when the Earth did. If she wants to learn the truth about the garden and herself, she'll have to hurry. There are those who'll do anything to take these secrets to the grave.

Re-envisioning The Secret Garden for a new generation, Moongarden introduces a dynamic heroine who just might grow a revolution.
Pixel+Ink, 9781645951261, 368pp.
Publication Date: October 4, 2022
About the Author
Michelle A. Barry grew up in Springfield, Massachusetts, and was later cajoled over the border into Connecticut by her future husband. She has worked as a newspaper reporter, freelance writer and editor, and marketing professional. She currently lives in Granby, Connecticut with her charming husband and their two delightful children. Moongarden is her first novel.