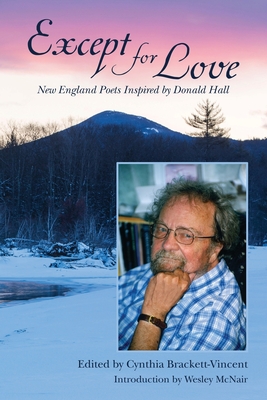 Except for Love (Paperback)
New England Poets Inspired by Donald Hall
Encircle Publications, 9781645990000, 105pp.
Publication Date: June 23, 2019
* Individual store prices may vary.
Description
Thirty-five contemporary New England poets share their poems inspired by literary giant Donald Hall (1928–2018), former Poet Laureate of New Hampshire and of the United States.
Sherry Barker Abaldo
Mary Anker
L.R. Berger
Edward Bruce Bynum
David Cappella
Jenny Doughty
Max Roland Ekstrom
Matt Forrest Esenwine
Elizabeth Brule' Farrell
Monica Flegg
James Fowler
David Giannini
Patricia Gomes
Kathleen McKinley Harris
Scott T Hutchison
Elizabeth Knies
Tricia Knoll
Katherine Leigh
Jim Mello
Mark Melnicove
Andrew Periale
Dawn Potter
Kyle Potvin
Jessica Purdy
Gary Rainford
Steven Ratiner
Dave Conlin Read
Russell Rowland
Clemens Schoenebeck
John Surowiecki
Wally Swist
Jeri Theriault
Irene Willis
Warren Woessner
Jane Yolen
About the Author
ANTHOLOGY EDITOR CYNTHIA BRACKETT-VINCENT has published/edited the Aurorean poetry journal continuously since 1995, giving voice to over 1,500 poets worldwide. She holds a BFA in creative writing from the University of Maine at Farmington. She serves as lead/acquisitions editor for Encircle Publications, which she co-owns with her husband Eddie Vincent. Encircle publishes full-length poetry and fiction books with an emphasis on mystery novels. Originally from Plymouth, Massachusetts where she co-founded the Tidepool Poets, she regularly visits her six grandchildren there. Her poetry, creative nonfiction, essays, and educational writing have been published in the United States and abroad in such venues as frogpond, Ibbetson Street, Pirene's Fountain, The Cape Cod Poetry Review, The Penman Review, and Yankee Magazine. Cynthia's co-edited Women on Poetry: Writing, Revising, Publishing & Teaching (McFarland) was named "One of 100 Best Books for Writers" by Poets & Writers. Her poetry has been nominated for the Pushcart Prize, and she has been the recipient of a Norton Island residency in poetry. She facilitates a yearly poetry workshop at Pyramid Life Center in the Adirondacks.
INTRODUCTORY TRIBUTE AUTHOR WESLEY MCNAIR, former Poet Laureate of Maine, has been called by poet Philip Levine "one of the great storytellers of contemporary poetry." He is the author of ten volumes of poems and twenty books, including poetry, nonfiction, and edited anthologies. McNair has held grants from the Fulbright and Guggenheim foundations, two Rockefeller grants for study at the Bellagio Center in Italy, two NEA fellowships, and a United States Artist Fellowship as one of America's "finest living artists." He has twice been invited to read his poetry by the Library of Congress, and has served five times on the Pulitzer jury for the Pulitzer Prize in poetry. Other honors include the Robert Frost Award, the Theodore Roethke Prize, an Emmy Award, and the Sarah Josepha Hale Medal, for his "distinguished contribution to the world of letters." His poetry has been featured on NPR's Weekend Edition and twenty-three times on Garrison Keillor's Writer's Almanac. It has also appeared in the Best American Poetry and over sixty anthologies and textbooks. In 2015 he was named as the recipient of the 2015 PEN New England Award for Literary Excellence in Poetry. Colby College hosts his online "Letters Between Poets"—1976–1984 letters between him and Donald Hall. His new book is The Unfastening.
Praise For Except for Love: New England Poets Inspired by Donald Hall…
Cynthia Brackett-Vincent notes in her preface that Hall had an undying love for so many things, among them Jane Kenyon, baseball, and New Hampshire. She speaks of his amorous reverence for the past, present, and the future. As we all know, love is infectious, and Hall's poetry and persona have touched so many poets and readers alike. Through their poetry, the contributors to this stunning anthology show their love for the poet and the man.

Hall gives gravitas to the most arcane rituals of the everyday, and so do the poets here. The poems in this collection celebrate the primal, the unaffected beauty of the world. They celebrate nature, and all the poems bloom like a flower, enriched by metaphor. The poems have so much to say, and with originality. On these pages, a rose can be a totem for where you have been and where you are now. The sensibility of Hall is deeply embedded in this collection.
—Doug Holder, Founder, Ibbetson Street Press

Lecturer in Creative Writing, Endicott College
or
Not Currently Available for Direct Purchase