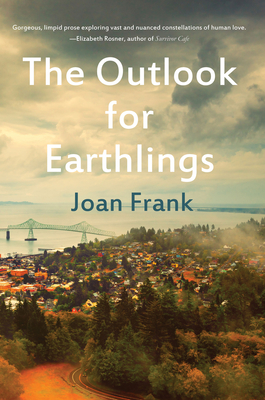 The Outlook for Earthlings
Paperback

* Individual store prices may vary.
Description
The Outlook for Earthlings traces an unusual, difficult friendship across a lifetime, between women of stunningly opposite natures. Melanie Taper is timid, compelled to obey and venerate authority. Yet in unguarded moments she demonstrates such deadly insight into human foibles as to suggest a strength that has, for dark reasons, deliberately hidden itself. Scarlet Rand, by contrast, is rash, willful, and impatient of reverence of any stripe. Scarlet is shocked by Mel's passive reserve; despite her obvious gifts, Mel is—bafflingly—self-erasing. Mel's saintliness maddens Scarlet—because finally and most troublingly, Scarlet disbelieves it. Their friendship suggests to each a final frontier, a saving sanctuary. Yet at its core, a pained impasse soon becomes evident: each woman takes a secret, moral offense at the other's inmost nature—and choices. Living out these differences—against awareness of the illness which is slowly destroying one of them—proves an ultimate challenge. In each, a reckoning must occur. The Outlook for Earthlings examines what women want, amid conflicting layers of need. It ponders beginnings, endings, and Virginia Woolf's declaration that good angels must be killed. It considers the limits of friendship—and of the act of witnessing. At its heart, it asks how we may finally measure a life—and who should do the measuring.
Praise For The Outlook for Earthlings…
"I'm completely in love with The Outlook for Earthlings. It's affected me so powerfully that I haven't wanted to talk to anyone, or do anything but sit and reflect, and re-read passages here and there. Truly a beautiful, life-altering work of fiction." —Christina "Kit" Ward
"Spanning the sixties through the aughts, with an epilogue set in 2013, the book zigzags through meetings, a Paris trip, emails, and late stage cancer treatments. Mel and Scarlet emerge as adults who've long passed the point of contemplating what-ifs, but who can't help weighing every nuance of their exchanges. The realization that friendship, in its purest distillation, is about support, no matter people's personal decisions, arrives late, but it's a rending lesson that lingers. With technicolor period details, intense reflections, and devastating acuity about women's compromises in love, The Outlook for Earthlings is an elegant elegy." —Karen Rigby, Foreword Reviews
"Line by line, The Outlook for Earthlings continually stunned me with its grace. In Frank's hands, even everyday actions become beautiful. Captures both the agony of adolescence and the quieter disappointments of middle age with skill and insight." —Julie Buntin, author of Marlena
"The Outlook for Earthlings offers the gift of Joan Frank's gorgeous, limpid prose exploring vast and nuanced constellations of human love." —Elizabeth Rosner, author of Survivor Cafe
"Joan Frank is an exquisite chronicler of the cracked and confused desires, wants—needs—of the human heart. Her people are survivors who (to echo one beautiful line) wear their stories on their faces. The Outlook for Earthlings is a devastating, and redemptive, contribution to her already excellent body of work." —Peter Orner, author of Maggie Brown & Others
"With great delicacy, Frank studies every detail of her protagonists' lives. The lifelong friendship of Mel and Scarlet offers us a portrait of love whose intent is not to save or protect, but as an act of bearing witness." —Michael Sledge, author of The More I Owe You
"Rich in experience and delineation of contemporary relationships, vividly seen and described." —Joan London, author of The Golden Age
Regal House Publishing, 9781646030071, 237pp.
Publication Date: October 2, 2020
About the Author
Joan Frank is the author of two essay collections and eight novels, including Miss Kansas City, which won the Michigan Literary Fiction Award.