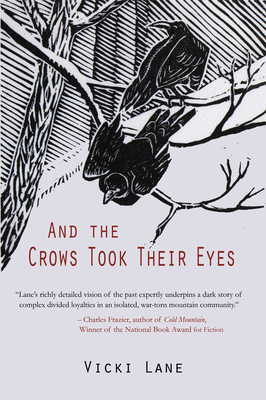 And the Crows Took Their Eyes
Paperback

* Individual store prices may vary.
Description
In bitterly divided western North Carolina, Confederate troops execute thirteen men and boys suspected of Unionism. The Shelton Laurel Massacre, as it came to be known, is a microcosm of the horrors of civil war—neighbor against neighbor and violence at one's own front door. Told by those who lived it—the colonel's wife, a helpless witness; the jealous second-in-command who gives the fatal order; the canny mountain woman who cares only for her people and her land; the conscript, a haunted man seeking redemption; and the mute girl, whose folk magic yields an unexpected result—these voices offer an intimate glimpse into the lives of five people tangled in history's web, caught up together in love and hate.
Praise For And the Crows Took Their Eyes…
"Lane's richly detailed vision of the past expertly underpins a dark story of complex divided loyalties in an isolated, war-torn mountain community." — Charles Frazier, author of COLD MOUNTAIN, and the National Book Award Winner in fiction

"In And the Crows Took their Eyes Vicki Lane has done nothing less than commit an act of mountain sorcery. Through her the voices of the dead rise up out of the hollows of Madison County, North Carolina telling a story as tragic and urgent as it was 150 years ago." — Tony Earley, author of Jim the Boy

"Vicki Lane casts an unforgettable spell in And the Crows Took Their Eyes, a compelling and humane reimagining of a heart-wrenching period in our American history." — Jessica Handler, author of The Magnetic Girl

"And the Crows Took Their Eyes accomplishes what only the very best historical fiction can ever hope to accomplish, connecting us, not only to our history, but to our humanity as well." — Tommy Hays, author of The Pleasure Was Mine

"If there's one thing we at AVLtoday can never get enough of, it's books — and when they're written by WNC authors or pertain to the region, it's even better." —Justin Souther, Malaprops Bookstore 
Regal House Publishing, 9781646030118, 298pp.
Publication Date: October 16, 2020
About the Author
Vicki Lane's previous novels include Signs in the Blood, four other Elizabeth Goodweather Mysteries, and The Day of Small Things. Her work has been praised for authentic dialogue, evocative detail, and rich, clear, intelligent writing that captures the essence of the North Carolina mountains and their people. Vicki teaches with the Great Smokies Writing Program (UNC-Asheville) and at Wildacres Writing Workshops.