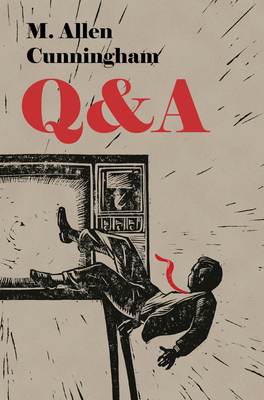 Q & A
Paperback

* Individual store prices may vary.
Description
Kenyon Saint Claire is the son of a distinguished literary family, a keeper and teacher of the written word, but his America is a land of small screens, moving images, big pharma, high-tech distraction, and endless advertising. False impressions are the stock-in-trade, and big metrics matter, especially onscreen. That's where Kenyon finds himself, drawn into the electronic environs of primetime television. The year is 1956. Inspired by true events, employing a groundbreaking form that evokes our agitated, media-soaked century, M. Allen Cunningham's Q&A urgently animates America's misunderstood quiz show scandals in light of our own time, as a moment of cultural reckoning whose reverberations we feel all around us today: in reality television, TV politics, the triumph of incoherence, and the pandemic problem of how to be real in a world of screen-induced self-deception.
Praise For Q & A…
"One of the bravest and most talented novelists writing today." —
Eowyn Ivey
, author of
The Snow Child
, Pulitzer Prize Finalist
"A master storyteller." —
Gina Ochsner
, author of
The Russian Dreambook of Color and Flight
"Cunningham's writing is beautiful and fluid. Mesmerizing." —
The Oregonian
"A writer both original and well aware of the writers who have come before him. Bold and ambitious." —
Peter Turchi
, author of
Maps of the Imagination
"Cunningham's facility with the language of image and sound casts a spell not unlike Isabel Allende." —The Clayton Pioneer
"Cunningham is a remarkable writer. His prose is delicate, touching, and lyrical." —Powells Books, Portland OR
"One of the most gifted fiction writers working today." —
Amy Mason Doan
, author of
The Summer List
"A fully formed, timeless American writer." —
Square Books
, Oxford MS
Regal House Publishing, 9781646030576, 334pp.
Publication Date: January 22, 2021
About the Author
M. Allen Cunningham is the author of several novels.