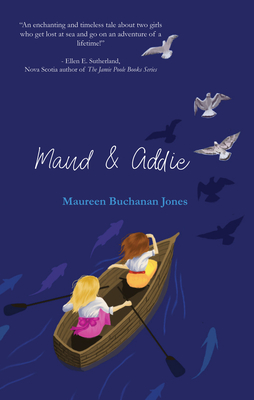 Maud & Addie
Paperback

* Individual store prices may vary.
Description
In 1910, the two sisters, eleven- and twelve-year-old Maud and Addie, are eagerly anticipating their Summer Social in Mahone Bay, Nova Scotia. However, the event does not quite go according to plan, and the two girls are swept out to sea as they are rowing home at the day's end. They find themselves adrift in the unforgiving North Atlantic with only the contents of a picnic hamper to sustain them and a carriage blanket to keep them warm. Finding their way through stormy seas, the girls finally make landfall on a deserted island. With string and a jackknife recovered from Maud's pockets and a parasol and novel contributed by Addie, the girls create a world for themselves among the island dunes, keeping company with sea birds and other sea creatures. Their ensuing adventures test their wits and, in the process, forge a bond that enables them to survive.
Praise For Maud & Addie…
"
Maud and Addie
is an enchanting and timeless tale about two girls who get lost at sea and go on an adventure of a lifetime!"—Ellen E. Sutherland, Nova Scotia author of The Jamie Poole Books Series
"Filled with adventure, discovery, and a splash of sibling rivalry, Maureen Buchanan Jones's historical novel
Maud & Addie
includes sweet messages about the importance of family. [...] Sure to enchant,
Maud & Addie
is a touching novel complete with old skeletons, new friends, and the unbreakable bonds of sisterhood." —Vivian Turnbull, 
Foreward Reviews
"An absorbing tale of two young sisters from Halifax, Nova Scotia, who are swept out to sea and their trials and risk-taking as castaways. [...] With confident pacing that rises and falls like the waves, the book charts the girls' progress as they enter survival mode, growing more resilient and resourceful with each test." —Kirkus Reviews 
Fitzroy Books, 9781646030606, 240pp.
Publication Date: May 6, 2021
About the Author
Maureen Buchanan Jones has lived in New York, Mumbai, Illinois, Michigan, Saskatchewan, Texas, Den Haag, Pennsylvania, and Florida. She spent childhood summers in Nova Scotia with her five siblings. After teaching literature and writing, she now leads creative writing workshops and retreats in western Massachusetts. She is a poet, novelist, and daydreamer.