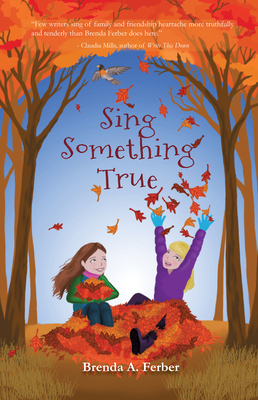 Sing Something True
Paperback

* Individual store prices may vary.
Description
There's a new girl at school who's stealing her best friend's heart, an abandoned bird who might not survive the winter, and an older sister whose emotional needs leave Cassidy scrambling to keep the peace. Cassidy will do anything to help prevent her sister's "Super Sophie Tantrums," even if that means pretending life is fine when it one-hundred-percent is not. But pretending has its limits and its costs, even for a sunshiny girl like Cassidy. Will she find a way to embrace the stormy side of her personality before everything falls apart?
Praise For Sing Something True…
"A heartbreakingly realistic book about friendship, sisters, and finding your voice." —Stacy McAnulty, author of The Miscalculations of Lightning Girl

 

"Few writers sing of family and friendship heartache more truthfully and tenderly than Brenda Ferber does here."—Claudia Mills, author of Write This Down

 

"Brenda Ferber's sweet Sing Something True hits all the right notes." —Kate Hannigan, Golden Kite Award winning author of The Detective's Assistant

 

"Whether you have a disabled child in your life or not, this book will sing something true straight to your heart until the very last page." —Katie Davis, author, illustrator, podcaster, and Director/CEO of Institute for Writers

 

"The name says it all: Sing Something True melds themes of self-expression and integrity with sweetness and grace. Readers will connect with Cass's struggle to be a good friend, sister, and daughter without forgetting something even more important: to be good to herself." —Lisa Jenn Bigelow, author of Hazel's Theory of Evolution and winner of the Lamda Literary Award

 

"With pitch perfect middle grade voice, Brenda Ferber's Sing Something True is a beautiful, authentic, page-turning story of friendship, family ties and a girl discovering what it means to sing your own song." —Christina Mandelski, author of The Sweetest Thing, The First Kiss Hypothesis, Love and Other Secrets, and Stuck with You

 

"Like every great song, Ferber's heartfelt Sing Something True strikes all the right notes. I cheered for Cassidy as she navigated the challenges of family and friendship and, in the process, found her own true voice, clear and empathetic and strong. Right now, we all need a little Cassidy Sunshine in our lives!" —Sarah Aronson, author of The Wish List series and winner of the Crystal Kite Award

"This middle grade novel hits the themes of friendship and self-discovery. Readers will empathize with Cassidy as she struggles to be a good friend and sister while remaining true to herself." —School Library Journal
Fitzroy Books, 9781646030613, 156pp.
Publication Date: August 7, 2021
About the Author
Brenda A. Ferber is a writer, crisis counselor, wife, mom, sister, daughter, aunt, friend, and optimist. She lives with her husband in South Florida. Other books you may love of hers are Julia's Kitchen, Jemma Hartman, Camper Extraordinaire, and The Yuckiest, Stinkiest, Best Valentine Ever.