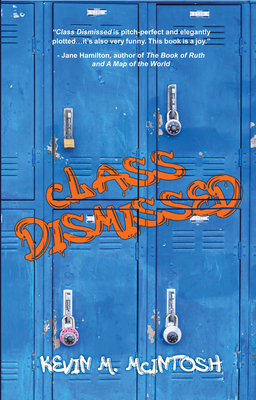 Class Dismissed
Paperback

* Individual store prices may vary.
Description
STUDENT GIVES TEACHER THE FINGER, screams the Post headline after Patrick Lynch slams his classroom door on the hand of Josh Mishkin, the learning-disabled son of two NYU professors. Josh's injury casts Patrick, thirty-year-old son of the Midwest, down a New York City rabbit hole of Board of Ed bureaucracy and union politics. Transformed into an unwilling celebrity by his fellow inmates in that teacher purgatory, the Rubber Room, Mr. Lynch is suddenly more "at risk" than any of his students. Now he must fight his way back to his classroom at Marcus Garvey High School and reclaim the affections of his social worker fiancée, all while wrestling the legend of his late father, Superintendent Lynch, the pride of Peterson's Prairie, Minnesota.
Praise For Class Dismissed…
Class Dismissed is pitch-perfect and elegantly plotted. That would be enough happiness for a reader--but it's also very funny. Not to mention harrowing. And, of this moment. Patrick Lynch practicing the art of teaching is heroic in a way that illuminates why teaching is a calling and indeed an art. This book is a joy." —Jane Hamilton, author of The Book of Ruth and A Map of the World

"Kevin M. McIntosh's Class Dismissed is competing for The Great School Novel title, alongside classics such as Kingsley Amis's Lucky Jim and Bel Kaufman's Up the Down Staircase. McIntosh writes with humor and a sardonic appreciation of life's all-too-expected travails. In Class Dismissed, the world tries to teach Patrick Lynch a lesson. He proves to be as apt a pupil as he is a successful teacher." — Alex Beam, Boston Globe 

"Class Dismissed explores the triumphs and tragedies of teaching – and the Kafkaesque bureaucracy that one gifted New York City public school teacher finds himself in after an accident involving his most difficult student. Simultaneously as cynical as the city he now calls home and as sincere as his midwestern roots, Patrick Lynch is an unforgettable narrator, one you'll root for as he buckles under the weight of his own mistakes. This novel is both laugh-out-loud funny and deeply moving, and marks an impressive debut." —Lisa Borders, Author of The Fifty-First State and Cloud Cuckoo Land
Regal House Publishing, 9781646030675, 234pp.
Publication Date: July 1, 2021
About the Author
Kevin McIntosh's short stories have appeared in the American Literary Review, Beloit Fiction Journal, Chicago Tribune, Jabberwock Review, Potomac Review, and have been nominated for Best New American Voices and the Pushcart Prize. He has had residencies at the Ragdale Foundation and Blue Mountain Center, and is a thirty-year veteran of public school teaching in Oakland, New York City, and Greater Boston. He lives and writes in Somerville, Massachusetts.