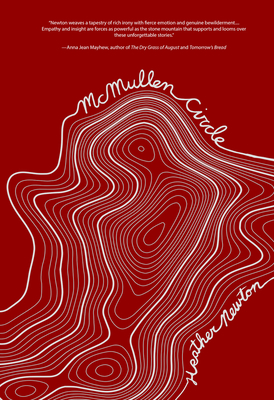 McMullen Circle
Paperback

* Individual store prices may vary.
Description
The twelve linked stories in McMullen Circle explore the intertwined lives of faculty families at the McMullen Boarding School in Tonola Falls, Georgia in 1969–70. The school community is isolated and idyllic, yet issues of race and the Vietnam War still intrude. Does heroism require physical prowess, or is there valor in a cafeteria worker enduring a cluttered, needy life with her four young sons, or an elderly librarian caring for her disabled lesbian partner? What does it take for a young African American girl to find the courage to assert her right to attend the all-white private school? The stories in this collection ask what, and who, are the real heroes.
Praise For McMullen Circle…
"Heather Newton is a beautiful writer and McMullen Circle is a beautiful book, written with compassion, humor and unflinching honesty. I love these stories, and as standalone pieces, each is a compelling in its own way, often breathtakingly so. And read as a whole, the stories transcend the individual characters, offering a complex, conflicted and empathetic portrait of this North Georgia boarding school and its community. The whole time I was reading McMullen Circle, I was reminded again and again of Sherwood Anderson's Winesburg, Ohio." —Tommy Hays, author of The Pleasure Was Mine

 

"A reader immediately warms to the linked stories in this collection. At first, they feel familiar, and welcome us, before turning strange. Wryly funny, they surprise with their sudden melancholies. With a practiced hand, Heather Newton reveals the many lives of McMullen Circle, but in glimpses. Through parted curtains and snippets of backyard conversations, we are treated to all the mysteries of childhood and aging that, just like a circle, never resolve." —LC Fiore, author of Coyote Loop

 

"Heather Newton is a master at capturing the mood and longing of the late sixties, early seventies, and the isolation of a boarding school in the North Georgia mountains where the children run free and the headmaster's wife goes in search of a television. When the Cordelia Six are arrested for firebombing a nearby theater that wouldn't admit Black teenagers, the striations of race become wider and insistent. In this linked collection, the stories often turn on what is overheard or understood only by some or even on a simple gesture, and Newton's carefully crafted sentences place discovery and feeling squarely in the heart of the reader. McMullen Circle is forged out of our past, but this is a collection for now." —Cynthia Newberry Martin, author of Tidal Flats

 

"In McMullen Circle, Heather Newton's riveting novel in short story form, compelling and believably flawed characters inhabit Tonola Falls, Georgia, a small town on the cusp of integration. In a dozen connected stories, Newton weaves a tapestry of rich irony with fierce emotion and genuine bewilderment. Ordinary people, animated with astounding power, confront their weaknesses and principles in a baffling, rapidly changing world." —Anna Jean Mayhew, author of The Dry Grass of August and Tomorrow's Bread
Regal House Publishing, 9781646030767, 167pp.
Publication Date: January 17, 2022
About the Author
Heather Newton's novel Under The Mercy Trees (HarperCollins 2011) won the Thomas Wolfe Memorial Literary Award, was chosen by the Women's National Book Association as a Great Group Reads Selection, and named an "Okra Pick" by the Southern Independent Booksellers Alliance. Her short prose has appeared in Enchanted Conversation Magazine, The Drum, Dirty Spoon, and elsewhere. A practicing attorney, she teaches creative writing for UNC-Asheville's Great Smokies Writing Program and is co-founder and Program Manager for the Flatiron Writers Room writers' center in Asheville, NC. www.heathernewton.net