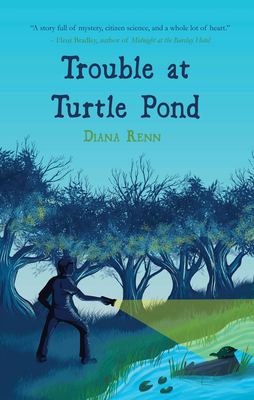 Trouble at Turtle Pond
Paperback

* Individual store prices may vary.
Description
When eleven-year-old Miles moves to Marsh Hollow, he's desperate for a fresh start. At his last school, his ADHD-related challenges earned him a reputation as a troublemaker and cost him his friends, especially after he lost a beloved class pet. With just one chance to make a first impression, "Mayhem Miles" is determined to do something great in this town. Like solving a mystery. After witnessing people burying something in his neighbor's backyard one night, he's sure there's trouble—and this time, it's not his fault. When his other neighbor, Pia, invites him to join the Backyard Rangers to help protect endangered turtles at the pond behind his house, Miles knows this is his chance to investigate. He stumbles on clues that point to wildlife poaching. Sabotaged turtle traps, stolen eggs, and kidnapped hatchlings put the fragile turtle population at risk. Miles and Pia recruit two more Backyard Rangers to help track a string of suspects, including an obsessive gardener, an eccentric pet shop owner, and the town bully and his drifter uncle. Then the rangers start receiving threatening messages, and an unexpected twist turns suspicion back on Miles. Has his reputation for trouble followed him all the way to Marsh Hollow? It's up to Miles to convince his new friends that he's not who they think he is, and to stop the turtle crimes before more turtles—and people—get hurt. A friendship-centered eco-mystery, Trouble at Turtle Pond celebrates citizen science, activist kids, and the power of paying attention.
Praise For Trouble at Turtle Pond…
"I was drawn into Miles's story right away, and happily followed him throughout his adventure as he navigated fresh starts, new friendships, and vanishing turtles. An engaging mystery, Trouble At Turtle Pond stars a compassionate character who does the right thing even when it's difficult and fights to protect those who can't protect themselves." —Lynne Kelly, author of Song For a Whale

"This book will make you stand up for turtles! I loved this story of friendship, self-reliance, and the meaning of becoming a good steward to all the creatures on our fragile planet. Bonus: A gripping mystery will keep you guessing!" —Leslie Connor, National Book Award finalist, and author of A Home for Goddesses and Dogs

Fans of Carl Hiaasen's Hoot will get lost in the fun antics and genuine nature of 'Mayhem Miles,' and they'll revel in the adventures of the Backyard Rangers. Diana Renn brings a fresh new voice to middle-grade with Trouble at Turtle Pond, a story full of mystery, citizen science, and a whole lot of heart." —Fleur Bradley, author of Midnight at the Barclay Hotel (Viking/Penguin Random House)
 

"Nothing about this fun, fast-paced mystery moved at a turtle's pace! Trouble at Turtle Pond is a truly intriguing read for young animal lovers and detectives everywhere!" —Taryn Souders, author of Edgar-nominated Coop Knows the Scoop
 

"Miles and Pia are such endearing young citizen scientists! I adored their big, caring hearts -- and loved exploring and clue-seeking around the turtle pond with them. A sure hit for kids interested in wildlife -- and for all of us who find our stride on nature trails." —Sally J. Pla, award-winning author of The Someday Birds
Fitzroy Books, 9781646032273, 257pp.
Publication Date: April 5, 2022
About the Author
Diana Renn is the author of three young adult mysteries set in other countries: TOKYO HEIST, LATITUDE ZERO (a Junior Library Guild Selection), and BLUE VOYAGE (a Massachusetts Book Award "Must-Read"). She enjoyed doing research for this book a little closer to home. Diana lives with her family in a town outside of Boston, in a neighborhood filled with wildlife—including turtles. Visit her online at www.dianarennbooks.com.