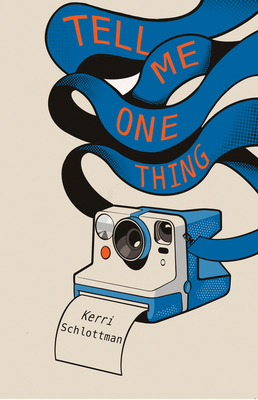 Tell Me One Thing
Paperback

* Individual store prices may vary.
Description
Outside a rural Pennsylvania motel, nine-year-old Lulu smokes a cigarette while sitting on the lap of a trucker. Recent art grad Quinn is passing through town and captures it. The photograph, later titled "Lulu & the Trucker," launches Quinn's career, escalating her from a starving artist to a renowned photographer. In a parallel life, Lulu fights to survive a volatile home, growing up too quickly in an environment wrought with drug abuse and her mother's prostitution. Decades later, when Quinn has a retrospective at the Whitney Museum of Art and "Lulu & the Trucker" has sold at auction for a record-breaking amount, Lulu is surprised to find the troubling image of her young self in the newspaper. She attends an artist talk for the exhibition with one question in mind for Quinn: Why didn't you help me all those years ago? Tell Me One Thing is a portrait of two Americas, examining power, privilege, and the sacrifices one is willing to make to succeed. Traveling through the 1980s to present day, it delves into New York City's free-for-all grittiness while exposing a neglected slice of the struggling rust belt.
Praise For Tell Me One Thing…
"[A] dynamic, character-driven debut... Schlottman acutely nails the misty, gold-hued atmosphere of the 1980s, and deeply explores themes of class and privilege...This thought-provoking work will put readers on the lookout for what the author does next."  —Publishers Weekly

"Vivid."  —Booklist

"In Tell Me One Thing, two women's stories begin in an instant—with a shutter click. Divergent yet inextricable, the paths and aspirations of a photographer and her young subject leap and shatter through the passage of four decades and at the mercy of American dearth, all of which Schlottman relays with understated grit and unflinching humanity. As we follow the photographer through seedy 1980s New York to today's commercially sterilized iteration, Schlottman proceeds to vivify a Polaraid snapped in a Pennsylvania trailer park, infusing viscerality and tragedy into a portrait that would have otherwise hung static on a collector's wall. By reframing an object to be admired as a child to be protected, Tell Me One Thing will both compel and confront readers with questions that only the finest of novels can posit."  —Jakob Guanzon, author of Abundance, longlisted for the National Book Award

"At once the expansive story of two women navigating two disparate, intersecting lives, and a thoughtful meditation on the transtemporal power of photography, Kerri Schlottman's Tell Me One Thing is that rare book: an art world novel with heart."  —Rachel Lyon, author of Self-Portrait with Boy

"Kerri Schlottman has delivered us the richest of reading experiences. I read Tell Me One Thing voraciously with equal parts intrigue and admiration, thinking how did she pull this off? Slinking expertly between time and location and point of view—the contrasts here are bright and nuanced, honest and vulnerable, jagged yet tender. This is a novel of great heart, examining the lines we draw as we become who we are. A devastating and rich exploration of trauma, art-making, love and the unmistakable hauntedness of what we cannot control, yet long to. I want everyone to read this book."  —Chelsea Bieker, author of Godshot and Heartbroke

"With a clear, empathic gaze, and with a sharp, startling intelligence, Kerri Schlottman's Tell Me One Thing traces two paths--that of artist, and that of subject--through the cruel disparities of the Reagan eighties and beyond. The result is a book that asks enduring questions about what art is for and what we, all of us, owe one another. Tell Me One Thing is phenomenal."  —Matthew Specktor, author of Always Crashing in the Same Car

"Fans of The Vanishing Half will love this novel written in alternating points-of-view: each one a perspective rooted in a starkly contrasting experience and yet one that echoes the longings of the other. Reading this was a much-needed exercise in empathy, one tempered by clear, endearing prose. In the parallel universes of two unforgettable characters, Schlottman renders on the page a simple and beautiful expression of our shared humanity. In Tell Me One Thing, we see the private struggles of a famed photographer making it in the wild days of New York City and how her seminal work exposes and yet neglects the harsh truth of one of her subjects. My heart broke and rooted for both characters, and long after I've turned the last page, I am still thinking of them."  —Cinelle Barnes, author of Monsoon Mansion: A Memoir and Malaya: Essays on Freedom

"I loved the way Tell Me One Thing follows two women trying to find their ways in the world — Quinn, the starving artist whose work rescues her from grinding poverty, and Lulu, a subject of Quinn's photography, whose own ways of working only mire her further into destitution and desperation. Kerri Schlottman's vivid writing skillfully recreates 1980s New York City and rural Pennsylvania; we're invited to witness both the heady art-world scene of the era and the foundations being set for the opioid epidemic. It's such a smart and well-crafted novel, bursting with life. I couldn't put it down."  —Amy Shearn, award-winning author of Unseen City and other novels

"An intimate look at the way art transforms the lives of both artist and subject, and not always for the better. In crisp, descriptive prose, Kerri Schlottman draws a portrait of both rural Pennsylvania and a transforming New York City, as she—and her characters—probe the murky line between inspiration and exploitation."  —Wil Medearis, author of Restoration Heights

"Stunning and vivid... Two women cross paths almost by accident, and the story follows each of their efforts to overcome the hard lives they're living. These characters are so realistic, we start rooting for them moments after meeting them....For all of their hard times, this book is full of unexpected moments of fulfillment, surprising flashes of grace."  —Stephen P. Kiernan, author of Universe of Two and The Baker's Secret
Regal House Publishing, 9781646033010, 216pp.
Publication Date: January 31, 2023
About the Author
Kerri Schlottman is a Detroiter turned New Yorker who works to support artists, performers, and writers in creating new projects. Her fiction and essays have appeared in The Dillydoun Review, Belle Ombre, Women Writers Women's Books, Muse Apprentice Guild, and The Furnace. She placed second in the Dillydoun International Fiction Prize, has been longlisted for the Dzanc Books Prize for Fiction, and was a 2021 University of New Orleans Press Lab Prize semifinalist.