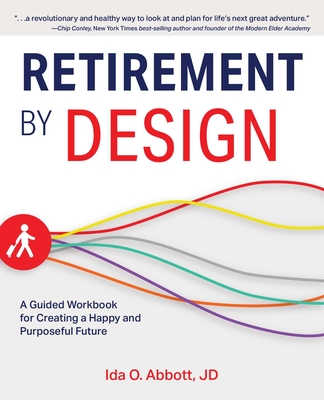 Retirement by Design
A Guided Workbook for Creating a Happy and Purposeful Future
Paperback

* Individual store prices may vary.
Description
Find out how harnessing the powerful business principles of design thinking can turn ordinary retirement planning into "a revolutionary and healthy way to look at and plan for life's next great adventure." (New York Times bestselling author, Chip Conley)
There is no one right time or way to retire. Retirement is a major life transition; but if you spend the time designing a future filled with promise and possibilities, the prospect can be utterly exciting and revitalizing. In
Retirement by Design
, professional mentor and coach Ida Abbott shows you how the innovative business principles behind design thinking can be applied to plan a rich, fulfilling, and more meaningful retirement. Her guided workbook uses a business-like approach to leaving business, making your switch much smoother and less jolting. Whether you're considering a new place to settle down, working through financial planning, strategizing how to unwind a business, or deciding on which organizations you want to stay engaged with, making critical decisions takes a lot of organization, thought, and planning. Abbott shows how the five principles of design thinking will revolutionize your retirement-planning process:
Empathy: Get inside the shoes of your future self. What will be important to that version of you?
Define: Hone in on what is and will be most critical for you to focus on (whether it's volunteering, family, activities, or skills).
Ideate: Draw, scribble, brainstorm, and throw around as many different retirement scenarios as you can come up with.
Prototype: If retiring across the country in Arizona sounds perfect—try it out first. Come up with opportunities to test out your scenarios with short trips and trial time off.
Test: This is the fun part—get back to the drawing board and try more retirement scenarios (and future versions of yourself) before sitting down to make those life-changing decisions.
The new and innovative, self-coaching approach of
Retirement by Design
helps you spearhead and navigate a major next step in life. Whether your retirement is 10 years away or swiftly approaching, this workbook ensures you will create a future that is perfectly tailored to you.
Praise For Retirement by Design: A Guided Workbook for Creating a Happy and Purposeful Future…
"Retirement by Design turns the daunting task of getting ready for retirement into the remarkably exciting, creative experience it always should be. Abbott. . . [has] built a revolutionary and healthy way to look at and plan for life's next great adventure."
— Chip Conley, New York Times bestselling author and Founder of the Modern Elder Academy

"If the best way to predict the future is to create it, Ida Abbott's Retirement by Design offers essential tools to help you figure out how to do just that. The practical, step-by-step exercises will help you slow down, think about what you really want, and provide the roadmap for a more fulfilling future. Buy this book before you buy a rocking chair!"


— Brigid Schulte, award-winning journalist, New York Times bestselling author of OVERWHELMED

"Retirement by Design presents a revolutionary and entirely professional take on planning for retirement--one that approaches the task like the exciting opportunity it is; and where endless options and tough decisions can be solved through creativity, experimentation and innovation."
— Marshall Goldsmith, New York Times #1 bestselling author of WHAT GOT YOU HERE WON'T GET YOU THERE and TRIGGERS

"By the time you have worked your way through this book, you will have a much clearer idea about the right retirement plan for you, and how to put it into action."
— Baby Boomer Retirement Blog
Ulysses Press, 9781646040216, 224pp.
Publication Date: March 10, 2020
About the Author
Ida Abbott is a professional consultant focusing on the power of mentoring relationships to guide, support, and transform professional careers from the beginning of practice through retirement. She has long been a leader in the field of talent management, particularly mentoring, sponsorship, and the advancement of women into leadership. In recognition of her lifetime contributions, she has been elected a fellow of both the American Bar Foundation and the College of Law Practice Management. Over more than four decades as a lawyer and legal consultant, Abbott has held leadership positions in numerous bar associations, women's organizations, and professional organizations in the US and internationally. She was a cofounder of the Hastings Leadership Academy for Women and the Professional Development Consortium, where she serves as a trusted advisor. She is a sought-after speaker and the author of several seminal books, including The Lawyer's Guide to Mentoring, 2d Edition, and Sponsoring Women: What Men Need to Know. She lives in Oakland, California.