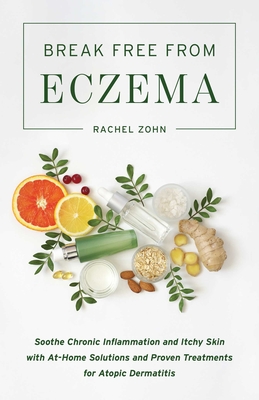 Break Free from Eczema
Soothe Chronic Inflammation and Itchy Skin with At-Home Solutions and Proven Treatments for Atopic Dermatitis
Paperback

* Individual store prices may vary.
Description
Find relief from itchy, red skin with this complete guide to healing eczema, including alternative treatments, DIY remedies, dietary suggestions, patient testimonials, and so much more.

Eczema is an intensely itchy, blistering, and inflamed skin condition that affects millions of people every day, yet many struggle to find treatments that actually work for them. The truth is, there is no cure or one-size-fits-all solution for eczema, but you can arm yourself with the information you need to determine what will work best for you. That's where Break Free from Eczema comes in! This book is your guide to understanding how your genes, the environment you live in, your daily routines, and more can affect your skin, and how to use that information to determine the best course of action—specifically for you.

This book provides practical tips and ideas on ways to manage eczema, including:

- Alternative and complementary treatments you can try out at home
- Clear explanations into the most current medical research on eczema, including topical steroid withdrawal
- Questions you need to ask yourself and your medical professionals
- Real-life stories of those who have dealt with this condition
Ulysses Press, 9781646040414, 192pp.
Publication Date: July 28, 2020
About the Author
Rachel Zohn is a freelance writer and journalist with a deep interest in writing about all things related to health and the human body. Her mission is to help readers better understand their condition and fully arm them with the pertinent information they need to take control of their own well-being. She is a former newspaper reporter for the Seattle Times, the Press-Enterprise, and the Orange County Register, and she is a contributing writer to US News and World Report. She covers health and wellness topics for HealthCentral.com. When she's not researching and writing articles or books, she keeps herself busy writing creative fiction and raising her two daughters with her husband, John.
or
Not Currently Available for Direct Purchase