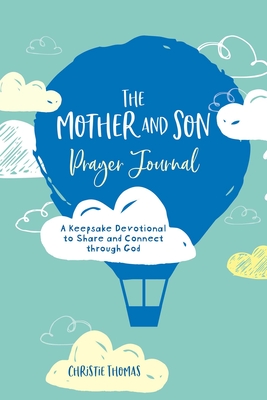 The Mother and Son Prayer Journal
A Keepsake Devotional to Share and Connect Through God
Hardcover

* Individual store prices may vary.
Description
Deepen your faith and strengthen your parent-child relationship with this interactive journal and devotional for mothers and sons.
This devotional is a great way to share the Christian faith with your son, and strengthen your bond with both him and the Lord. Perfect to share with sons who are between the ages of 6 and 12,
The Mother and Son Prayer Journal
includes space for both you and your child to write your thoughts and ideas, discussion questions, and suggestions for how to learn and grow in faith together. Inside you'll find:
Biblical excerpts and stories
Thoughtful questions and blank lines for personal answers
Prayers to say together
And much more!
This wonderful keepsake is sure to be a great way for parents and children to grow closer together through the love of Christ and create a meaningful, one-of-a-kind personal memento to treasure over a lifetime.
Praise For The Mother and Son Prayer Journal: A Keepsake Devotional to Share and Connect Through God…
My ten-year old and I have loved using the Mother and Son Prayer Journal together. We've tried a lot of devotionals in the past, so we're somewhat experts by now, and we agree this one is GOOD! The daily readings are interesting and engaging, the discussion questions are just right (little boys don't often feel like carrying on too long) and the journal prompts are a great way for my son to share a bit of his heart without feeling the pressure to write a lot (he enjoys the option of drawing!) I also love journaling my thoughts and prayers for my sweet son, so having space for that is such a gift. Thank you, Christie, for this precious resource that will double as a keepsake for many years to come!

With Aloha,
— Monica Swanson

Christie Thomas has produced the resource I wish I'd had for my boys when they were younger. She's done a wonderful job of unpacking the truths of the Bible in a way that speaks to the heart of young boys. If you've wondered how to begin teaching your sons to pray, pick up this journal. But watch out...you might just find your own heart encouraged as well!
— Brooke McGlothlin

Let's face it . . . it's hard enough to get our busy boys to slow down long enough for a quick hug, let alone a meaningful conversation! As a mom of three boys, Christie Thomas probably knows this better than anyone. The Mother and Son Prayer Journal provides simple and interactive prompts for spiritual connection with boys. It's encouraged some really special conversations between me and my son. I cherish the time we've spent with this book and I know you will too.
— Jess Wolstenholm

I loved the entire thing and there are such great ideas for journaling/praying. I learned a few things about David that I didn't know before. You made David come alive like a real person and pulled out amazing biblical lessons.
— LaToya Edwards

The Mother and Son Prayer Journal has been such a huge blessing for my 8 year old son and I. It's written in such a fun and adventurous and intriguing way--so perfect for boys! At first, my son wasn't excited about doing this together but now he is the one asking that we do it! The devotions are so fun and engaging and the activities and questions have brought us closer together. My favorite part about it is the special spot for the mom to write a prayer for her son after each devotion. It guides me in praying specific prayers over my son and I love watching him smile from ear to ear when I read the prayers back to him. I have noticed that my son and I have a deeper connection and better conversations after taking time to do this journal together.
— Sarah Holmstrom

Drawing from her experience as a mom of three sons, Christie Thomas knows how to reach boys with powerful messages from the Bible. This interactive devotional gives mothers the tools they need to share meaningful spiritual moments with their sons. With lessons based on the exciting life of David, mothers and sons can explore the truths of God's word and apply it to their own lives. The format and design of each day's devotion will encourage discussion and mutual participation. I only wish I had this book when I was raising my boys!
— Crystal Bowman
Ulysses Press, 9781646041701, 144pp.
Publication Date: April 6, 2021
About the Author
Christie Thomas lives in Alberta, Canada and is the mom of 3 amazing boys. She is the author of Quinn's Promise Rock and Quinn Says Goodbye, and loves to help Christian moms nurture deep faith roots in their kids through her online work at Little Shoots, Deep Roots. Her favorite thing to do with her boys is read good stories together and do wacky science experiments.