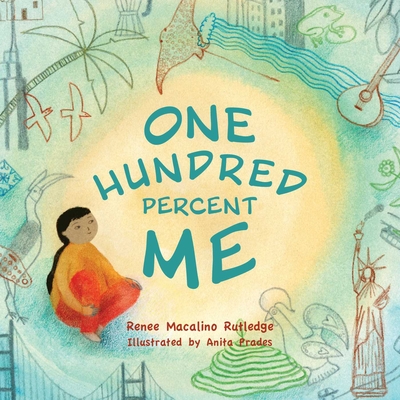 One Hundred Percent Me
Hardcover

* Individual store prices may vary.
Description
A heartwarming story about the joys of multicultural families and being mixed race. One Hundred Percent Me takes readers (ages 4 to 8) along as a young girl explores and accepts her unique identity.

It can be confusing to be a child of mixed race. As the little girl moves through daily life in the big city, she hears some people say she looks more like her Puerto Rican dad, while others claim she takes after her Filipina mom. Should she favor one identity over the other? No! In fact, honoring every facet of her identity equally becomes the main character's favorite affirmation. This beautifully illustrated book about celebrating differences, claiming our belonging, and acknowledging our heritage encourages all readers to embrace the fact that we are all 100% ourselves.
Praise For One Hundred Percent Me…
"Reading One Hundred Percent Me brought tears to my eyes as I followed the little girl through her encounters with people asking questions such as "what are you?," and through her attempts to respond. Although my background is 100 percent European, I believe I could have used this book as a child to help me understand how I am unique and one of a kind, just as Renee Rutledge's little girl finds a way to explain and be proud of her own heritage and uniqueness. The author's simple yet poetic language and the beautiful illustrations by Anita Prades carry the story forward to its happy conclusion."
— Kevis Brownson
Bloom Books for Young Readers, 9781646043484, 32pp.
Publication Date: May 3, 2022
About the Author
Renee Macalino Rutledge was born in Manila, Philippines, and raised in California from the age of four. Her debut novel, The Hour of Daydreams, won an Institute for Immigration Research New American Voices Finalist award, Foreword INDIES Gold, and Powell's Top Five Staff Pick. In addition to The ABCs of Asian American History, she is also the author of the children's books One Hundred Percent Me, a celebration of mixed-race identities, and Buckley the Highland Cow & Ralphy the Goat, a story about overcoming hardship with the help of our friends, who are often very different from ourselves. Renee lives in the San Francisco Bay Area, where she reads books for a living, loves the outdoors, and is always on the lookout for new adventures with her husband and their two daughters. Find her at www.reneerutledge.com or connect with her on Instagram @renee_rutledge.

Anita Prades is an illustrator and actress born and based in Sao Paulo, Brazil. She graduated in Visual Arts at UNESP (Universidade Estadual "Júlio de Mesquita Filho") and holds a Master degree in Arts and Education at the same institution. She has illustrated several children's books in Brazil, with titles selected to the Brazilian Catalogue of Bologna Children's Book Fair in 2015 and 2017. In 2020, Anita published her first book as an author, Fio de Rio ("River thread"), and has been working on new books and personal projects since then. One Hundred Percent Me, by Renee Macalino Rutledge, is her first international experience as an illustrator. She is also a member of Instituto Emília's team (emilia.org.br), an independent and free digital publication with international recognition, dedicated to children's literature and the formation of young readers. More information available in www.anitaprades.com