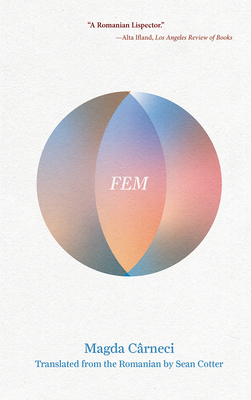 Fem
Paperback

* Individual store prices may vary.
Description
In this modern classic of global feminist literature, the only novel by one of Romania's most heralded poets, styled as a long letter addressed to the man she is ready to leave, a woman meanders through a cosmic retelling of her life from childhood to adulthood with visionary language and visceral detail. Like a contemporary Scheherazade, she spins captivating tales that create space in the cosmos for the female experience. Through a dreamlike thread of strange images and passing characters from the small incidents of their lives together to the intimate narrative of her relationship to womanhood, her stories invite the reader into a fantastical vision of love, loss, and femininity.
Deep Vellum Publishing, 9781646050413, 232pp.
Publication Date: June 8, 2021
About the Author
Magda Carneci is a widely acclaimed writer, translator and art critic in Romania, where she has become a leading voice among the gifted group of poets who began their careers under the waning influence of Communism in Eastern Europe. She is the recipient of prizes and grants from the Fulbright Foundation, Getty Trust, European Union, and more; in 2013, she won the "Opera Omnia" career prize from the Romanian Writers' Union. her poems have been translated into thirteen languages and included in numerous anthologies.