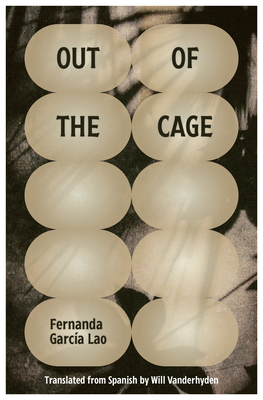 Out of the Cage
Paperback

* Individual store prices may vary.
Description
Out of the Cage opens in 1956, in Argentina, with the freakish death of Aurora Berro, and descends into a dark philosophical exploration of humanity and mortality. In the midst of her family's celebration of a national holiday, an LP, careening through the air like a "demented boomerang," severs her jugular. Her family-- an agglomeration of perversions, deformities, and obsessions--seems at first not to notice, singing on. Aurora is left behind in a voyeuristic limbo as an omniscient first-person narrator, to observe the depravity of her family and reflect on the farce of her life and human existence.
Fernanda García Lao has been called "the strangest writer of Argentine literature," and in
Out of the Cage
, she lives up to that distinction. The book is saturated in strangeness, a blend of formal experimentation, eroticism, grotesque theatricality, and dark humor that evokes the absurdist fictions of Witold Gombrowicz and the style of Silvina Ocampo. The result is a macabre and fantastic vaudeville, a tragicomedy, a kind of Dadaist opus against ideas of eternal beauty and fixed identity, against absolute concepts and universality.
Deep Vellum Publishing, 9781646050451, 168pp.
Publication Date: March 9, 2021