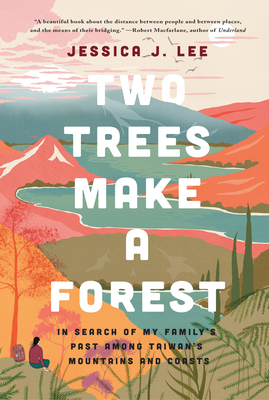 Two Trees Make a Forest
In Search of My Family's Past Among Taiwan's Mountains and Coasts
Paperback

* Individual store prices may vary.
Other Editions of This Title:
Digital Audiobook (8/3/2020)
Digital Audiobook (10/26/2020)
Description
This "stunning journey through a country that is home to exhilarating natural wonders, and a scarring colonial past . . . makes breathtakingly clear the connection between nature and humanity, and offers a singular portrait of the complexities inherent to our ideas of identity, family, and love" (Refinery29).

A chance discovery of letters written by her immigrant grandfather leads Jessica J. Lee to her ancestral homeland, Taiwan. There, she seeks his story while growing closer to the land he knew.

Lee hikes mountains home to Formosan flamecrests, birds found nowhere else on earth, and swims in a lake of drowned cedars. She bikes flatlands where spoonbills alight by fish farms, and learns about a tree whose fruit can float in the ocean for years, awaiting landfall. Throughout, Lee unearths surprising parallels between the natural and human stories that have shaped her family and their beloved island. Joyously attentive to the natural world, Lee also turns a critical gaze upon colonialist explorers who mapped the land and named plants, relying on and often effacing the labor and knowledge of local communities.

Two Trees Make a Forest is a genre–shattering book encompassing history, travel, nature, and memoir, an extraordinary narrative showing how geographical forces are interlaced with our family stories.
Praise For Two Trees Make a Forest: In Search of My Family's Past Among Taiwan's Mountains and Coasts…
One of The Guardian's Best Books of the Year

"Part travel guide, part memoir, part history, the new book by environmental historian Jessica J. Lee takes us on a journey through her ancestral home of Taiwan as she examines the landscape, the wildlife, the legacy of colonialism and her own roots. The book beautifully captures the deep connections between the natural world and family history." —Karla Strand, Ms. Magazine

"When Jessica J. Lee discovers letters written by her immigrant grandfather, she decides to head to her ancestral home of Thailand to connect with his experiences . . . Through this time, she learns more about her family's past, including how colonialism shaped their fate." —Laura Hanrahan, Cosmopolitan, A Best Nonfiction Book of the Year

"Jessica J. Lee's stirringly beautiful book, which mingles elements of memoir, travel writing, and history lesson, is intensely personal and profoundly generous, offering readers a glimpse into the rich legacies of both Lee's family and their homeland, Taiwan . . . A stunning journey through a country that is home to exhilarating natural wonders, and a scarring colonial past. Lee makes breathtakingly clear the connection between nature and humanity, and offers a singular portrait of the complexities inherent to our ideas of identity, family, and love." —Kristin Iversen, Refinery29

"Lee offers a divergent model for a travel memoir, in which the land is the lead character in the work, itself an ancestor that she longs to know . . . Her perspective provides a refreshing departure from the norm: for Lee, it is not the landscape that is foreign but the author herself. Although she is a descendant of this land, she makes sure to establish herself as a respectful visitor, giving the island room to reveal itself to her as it wishes to be seen . . . Ultimately, she finds that her motherland is a place of perpetual migration, and at long last, she feels less adrift." —Frances Nguyen, Outside

"Love is attention, as the saying goes, and in this, Lee's memoir truly shines. A remarkable exercise in careful attention, be it to the nuances of language, the turns of colonial history, or a grandfather's difficult–to–read handwriting, Two Trees Makes A Forest is a moving treatise on how to look closely and see truthfully, even as the fog rolls in." —Rachel Heng, BOMB

"After unearthing her grandfather's hidden memoir, Lee becomes determined to piece together her family's history as they moved from China to Taiwan to Canada. Her search brings her home to Taiwan where she explores the language, history, and memories of her family's homeland. Her end product is a beautifully written book that is equal parts personal narrative, history of Taiwan, and meditations on nature." —Sophia LeFevre, Book Riot, One of the Best New Memoirs Written by Asian Authors

"After discovering her grandfather's fragmented autobiographical writings, Lee—who has a doctorate in environmental history—travels to the island of Taiwan to hunt down lost parts of his story and attempt to reconnect with distant relatives. She offers a poetic tour and anti–colonial reclamation of the island through her descriptions of its flora, fauna, natural disasters, and political history." —Electric Literature

"Lee finds her own ways of imprinting her rediscovered homeland on her spirit . . . As Taiwan reveals itself, Lee comes to a kind of peace. Gong's past and her present, so evocatively examined, suggest the forest she needed to find." —Priscilla Kipp, BookPage

"In the plants, history, and landscape of Taiwan, [Lee] comes to terms with her own identity . . . poetic and emotive, unfurling to reveal passages about her family, her pain, and her exploration of Taiwan's myriad habitats . . . While we don't know what will come next on her journey, we are left with hope that she will continue searching—not to fill a void or patch a past with which she will never be able to fully make amends, but that she will define herself by growing into her heritage. And that is the best any of us can do."—Kristen Schott, Los Angeles Review of Books

"As an environmental history scholar and nature writer, Lee brings a fascinating perspective to Taiwan based on an immersive connection to the land. Lee eloquently describes Taiwan's landscapes and natural history from Qing times, when modern scientific methods were first developed, and impresses upon readers the magnificence of its mountains that climb to almost 4,000 meters from sea level." —Hilton Yip, Asian Review of Books

"[Jessica J. Lee] combines a botanist's precision with a poet's eye and ear . . . One of the most exciting voices exploring landscape and identity today. In Two Trees Make a Forest, she has created a powerful, beautifully written account of the connections between people and the places they call home."—Elizabeth Dearnley, Times Literary Supplement

"[An] elegiac book, which smoothly incorporates historical and travel threads . . . A beautiful and personal view of an island—and an author—shaped by environment and history."—Kirkus Reviews

"I want to go to Taiwan to experience the woodlands, the wetlands, the highlands, the lowlands, and the creatures in, above, and underneath, as Jessica J. Lee does with all her senses, including that sense too many of us ignore—the inner self. Then again, she has taken me there with this splendid book." —Jack E. Davis, author of The Gulf, winner of the 2018 Pulitzer Prize
Catapult, 9781646220007, 304pp.
Publication Date: August 4, 2020
About the Author
Jessica J. Lee is a British–Canadian–Taiwanese author and environmental historian, and winner of the 2019 RBC Taylor Prize Emerging Author Award. She received a doctorate in environmental history and aesthetics in 2016, and her first book, Turning: A Year in the Water, was published in 2017. Jessica is the founding editor of The Willowherb Review. She lives in Berlin.