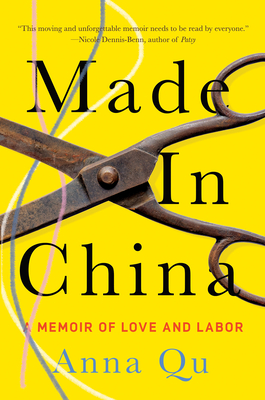 Made in China
A Memoir of Love and Labor
Hardcover

* Individual store prices may vary.
Description
A young girl forced to work in a Queens sweatshop calls child services on her mother in this powerful debut memoir about labor and self-worth that traces a Chinese immigrant's journey to an American future.

As a teen, Anna Qu is sent by her mother to work in her family's garment factory in Queens. At home, she is treated as a maid and suffers punishment for doing her homework at night. Her mother wants to teach her a lesson: she is Chinese, not American, and such is their tough path in their new country. But instead of acquiescing, Qu alerts the Office of Children and Family Services, an act with consequences that impact the rest of her life.

Nearly twenty years later, estranged from her mother and working at a Manhattan start-up, Qu requests her OCFS report. When it arrives, key details are wrong. Faced with this false narrative, and on the brink of losing her job as the once-shiny start-up collapses, Qu looks once more at her life's truths, from abandonment to an abusive family to seeking dignity and meaning in work.

Traveling from Wenzhou to Xi'an to New York, Made in China is a fierce memoir unafraid to ask thorny questions about trauma and survival in immigrant families, the meaning of work, and the costs of immigration.
Praise For Made in China: A Memoir of Love and Labor…
A Library Journal Title to Watch

"Qu's debut memoir untangles the knots of her complicated, traumatic past as she learns the truth about her own history and reckons with the hopes and constraints of the immigrant experience." —Time

"A heartbreaking reflection of the ripple effects of immigration." —Katherine Ouellette, WBUR

"Made in China is a fierce, provocative look at the sacrifices made by immigrants in a new country, and the sacrifices they pass down to the next generation. It's a story of family and trauma, resilience and collapse, and Qu is dazzling as she dismantles the mythologies surrounding the immigrant work ethic, making clear that a person's humanity should never be connected with how 'productive' they are." —Kristin Iversen, Refinery29

"Qu rewrites the bootstrap narrative of immigrants building a better life for their children in her grim and entrancing debut . . . Even in revisiting her harrowing memories, Qu writes from a place of empathy, transcending pain to embrace hope . . .  This marks the arrival of a promising new voice." —Publishers Weekly (starred review)

"A nuanced examination of complicated ripple effects of intergenerational emigration. A powerful memoir of finding self-worth." —Library Journal

"Gripping . . . Well written . . . Brilliantly insightful." —Kirkus Reviews

"Anna masterfully evokes her childhood with a power and grace that speak of an experience that no one should ever have to endure. This moving and unforgettable memoir needs to be read by everyone." —Nicole Dennis-Benn, author of Patsy

"Anna Qu has written a thoroughly engrossing and nuanced memoir about triumph over trauma and the meaning of home. Made in China brings the immigrant experience to life and makes you root for Anna. A must read." —Sopan Deb, author of Missed Translations 

"Made In China is a sympathetic, brave portrayal of the confusions, difficulties, and hurts that come with growing up between worlds. Anna Qu's writing about her journey as an immigrant deftly shows how our origins—of economic status, of country—have lasting effects on the ways we approach family, work, and self. I was captivated and moved by her story." —Alexandra Chang, author of Days of Distraction

"Made in China is an important story told with intelligence and heart, and a study of discipline as a form of devotion—devotion to a mother, to a legacy, to our own dreams and to those of others, to being good. So much of American rhetoric is about what we are owed. This graceful memoir is about the much trickier problem of what we deserve. Which is, in the end, brightest love." —Lacy Crawford, author of Notes on a Silencing
Catapult, 9781646220342, 224pp.
Publication Date: August 3, 2021
About the Author
Anna Qu is a Chinese American writer. Her work has appeared in The Threepenny Review, Lumina, Kartika Review, Kweli Journal, Vol. 1 Brooklyn, and elsewhere. She holds an MFA from Sarah Lawrence College and lives in Brooklyn. Find out more at annaqu.com.