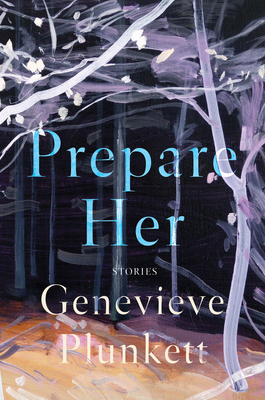 Prepare Her
Stories
Paperback

* Individual store prices may vary.
Description
A collection of "elegant, original, and moving" stories "with the lyrical brilliance and bite of Sylvia Plath" set in a not-so bucolic Vermont, a land of antique stores, small towns, fading farms, and young women trying to figure out marriage, motherhood, sex and their own power (Megan Mayhew Bergman, author of Almost Famous Women and Birds of a Lesser Paradise).

Prepare Her tells the stories of young women at the brink of discovering their own power. The crossroads in their lives are not always the obvious kind--divorce, motherhood, coming of age--but sometimes much more private and dramatic. Kitty discovers that her ex-boyfriend has committed a murder; Renee navigates a friendship with Arla, a Jehovah's Witness; Emi realizes that her boyfriend is fetishizing her mental illness; Petra acts recklessly when faced with a client with a gun; and Rachel must grapple with the reality of raising a daughter in a world that she, herself, is still terrified of.

Tempered by its rural and often haunting Vermont setting, this book explores the complexities of gender and power imbalances in a way that transforms normal life into something mysterious, uncharted, and sometimes bewildering. Through this lens, we can see the many subtle, yet staggering injustices endured by the women at the center of these stories, as well as identify what, or who might be responsible.
Praise For Prepare Her: Stories…
"Each of these haunting, piercing short stories shares a common language of desire: the desire to feel seen, the desire to have more than what's being offered, the desire to break free from the bonds of conventional society. In her debut collection, Genevieve Plunkett depicts the lives of women as they are really lived—with conflict and chaos, love and tenderness, and no small amount of confusion about what is supposed to come next. Each story reflects a different facet of the human condition, some glittering, some blinding, all shining a light on how impossible it can seem to figure out what it means to be alive, but also how worthwhile a pursuit it really is." —Kristin Iversen, Refinery29

"Henry David Thoreau observed that men often lead lives of quiet desperation, and although he omits women, they often also lead lives of quiet desperation, as is the case for the women under examination in Genevieve Plunkett's debut story collection, Prepare Her . . . Plunkett hooks readers easily with carefully crafted first lines, drawing readers in with dead bodies, mysteries, and odd images. From there, the stories build momentum slowly, but precisely, spiraling out along tangential subplots. These sideline narratives accrete to form the fuller story, eventually coming together as the stories conclude, often abruptly. Plunkett piles many ingredients into a slow cooker and then lets them boil . . . Prepare Her is a collection featuring a cerebral examination of womens' lives. Plunkett is methodical, layering narrative on top of narrative, creating well-considered arguments." —Ian Macallen, Chicago Review of Books

"O. Henry Award-winner Genevieve Plunkett's debut collection of a dozen stories, Prepare Her, is a vivid and emotionally raw look at the less-picturesque side of small-town Vermont life . . . Plunkett's writing is mesmerizing in its even pacing, crisp prose and minute character insights . . . The neatness and precision of Plunkett's writing is well-suited for the quiet but emotionally deep nature of her characters, who straddle the line between a too-lucid understanding of the world and a longing to escape into the imaginative realm of the ever-evasive could-be." —Shelf Awareness (starred review)

"[A] nuanced debut story collection . . . With bracing honesty, Plunkett's richly drawn narratives bring emotional depth to the characters' struggles and internal conflicts." —Booklist

"Plunkett has a way with objects. Hers is a highly contained and often bleak fictional world, full of accumulated, worn things that mostly stay where they are . . .[Her] refusals and obfuscations offer a blunt form of realism; I believe, basically, that most things don't happen for any kind of reason that we can comprehend, even if we think we can explain them neatly afterward. Children know this best, and adults forget it. Perhaps that's why there is something of childlike disorientation in reading these stories, something like chasing dust motes in shadows or getting lost in a cornfield, waiting for something terrible to happen." —Sophie Haigney, Bookforum

"Plunkett's striking debut puts a series of women's interior lives in stark relief . . . Plunkett's keen observations will pique readers, and the stories pay off with dividends." —Publishers Weekly

"Plunkett's strength is in the patience and precision of her interior and exterior landscapes. Like horses, too, these stories are full of beauty and elegance but also inscrutability, with Plunkett content to braid scenes and images together and let the mystery of their relationships abide. Wistful tales rendered with delicate writing and powerful perception." —Kirkus Reviews

"Genevieve Plunkett's stories are elegant, original, and moving, with the lyrical brilliance and bite of Sylvia Plath. Her characters are painfully, magnetically human, and her prose is imaginative—an impressive tangle with the ideas of domesticity and womanhood, and a thrilling debut." —Megan Mayhew Bergman, author of Almost Famous Women and Birds of a Lesser Paradise

"The young women and girls in Prepare Her, Genevieve Plunkett's story collection, seem often to be peering at their lives as if through the wrong end of a telescope, deeply focused yet oddly distant from it. These are stories about intimacy and loneliness, and about desire, the desire these young women have to inhabit their bodies fully as sexual beings, to be seen one moment and not seen the next. Few writers capture sex as beautifully and self-consciously, as strangely and humorously, as Plunkett. Simply put, I loved these stories." —Lori Ostlund, author of After The Parade and The Bigness of the World

"Prepare Her, Genevieve Plunkett's debut story collection, is a book about finding the strength to embrace loneliness in order to search for one's squelched and buried self. Plunkett's characters do not always find the answers, but she portrays their struggle to break free from the oppressiveness of marriage and family and grief with such humor and tenderness, with such poetry, that we can believe again in the possibility of triumph over despair, of life over emptiness. This book beats with the heart of our times."—Anne Raeff, author of Winter Kept Us Warm, The Jungle Around Us, and Only the River

"Prepare Her is haunting, lush, unsettling—a brazen examination of shame, wild beauty, and the small and not-so-small cruelties we inflict upon ourselves and each other. Perfectly calibrated and teeming with style, these dark little masterpieces are full of grim brilliance. Plunkett is a rare and ferocious talent, and this is a stunning debut." —Kimberly King Parsons, author of Black Light

Catapult, 9781646220403, 256pp.
Publication Date: July 13, 2021
About the Author
Genevieve Plunkett is the recipient of an O. Henry Award. Her work has also appeared in The Best Small Fictions, and journals such as New England Review, The Southern Review, Crazyhorse, The Colorado Review, and Willow Springs. She lives in Vermont with her two children.