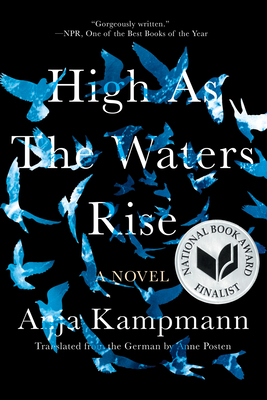 High As the Waters Rise
A Novel
Paperback

* Individual store prices may vary.
Other Editions of This Title:
Hardcover (9/15/2020)
MP3 CD (4/20/2021)
Compact Disc (4/20/2021)
Description
This "gorgeously written" National Book Award finalist is a dazzling, heart-rending story of an oil rig worker whose closest friend goes missing, plunging him into isolation and forcing him to confront his past (NPR, One of the Best Books of the Year).

One night aboard an oil drilling platform in the Atlantic, Waclaw returns to his cabin to find that his bunkmate and companion, Mátyás, has gone missing. A search of the rig confirms his fear that Mátyás has fallen into the sea.

Grief-stricken, he embarks on an epic emotional and physical journey that takes him to Morocco, to Budapest and Mátyás's hometown in Hungary, to Malta, Italy, and finally to the mining town of his childhood in Germany. Waclaw's encounters along the way with other lost and yearning souls—Mátyás's angry, grieving half-sister; lonely rig workers on shore leave; a truck driver who watches the world change from his driver's seat—bring us closer to his origins while also revealing the problems of a globalized economy dependent on waning natural resources.

High as the Waters Rise is a stirring exploration of male intimacy, the nature of memory and grief, and the cost of freedom—the story of a man who stands at the margins of a society from which he has profited little, though its functioning depends on his labor.
Praise For High As the Waters Rise: A Novel…
An NPR Best Book of the Year

"This first novel by an established poet examines the marginalized lives of European laborers . . . Although Kampmann addresses current events, such as environmental degradation and the precariousness of modern Europe, her focus is on how ideas of masculinity affect one man's ability to grieve." —The New Yorker

"This gorgeously written novel by German poet Anja Kampmann, translated superbly by Anne Posten, focuses on Waclaw, a middle-aged oil rig worker. In the opening pages, Waclaw learns that his dear friend, Mátyás, has gone missing from the rig and is presumed dead. Waclaw, who has already been injured once in this dangerous line of work, begins an unintentional pilgrimage to places he and Mátyás made meaningful. Eventually, as he sinks deeper into grief, Waclaw returns also to the places that shaped him and that he fled in search of a better life." —NPR

"An inner story of tenderness and delicacy, [High as the Waters Rise] concerns an oil rig worker's need to come to terms with the loss of his bunkmate and partner, and so emerge from an inarticulate grief . . . Simple, sensual language builds complex compound meaning . . . everything is layered and deeply submerged, the sea a metaphor, as ever, for all we cannot know." —Marina Benjamin, New Statesman

"An evocative road novel, a powerful account of grief and loss, and a subtle portrait of the dangers facing the working class. When you add an array of stark, beautiful sentences into the mix, the result is a thoroughly haunting, deeply moving novel." —Tobias Carroll, Words Without Borders

"It is unexpected to encounter a modern–day Moby Dick with the same dangerous stakes, but, for workers under global capitalism, the sea remains as treacherous as ever. Capitalism's disregard for human life is as deadly now as it was on the Pequod . . . Kampmann uses her gifts not to make the ugliness of global capitalism palatable, but to resist it, in the tradition of Audre Lorde . . . This novel fulfills the essentially radical task of poetry." —Fiona Bell, Chicago Review

"Anja Kampmann's novel, translated from the German by Anne Posten, is meandering — in a good way. You feel Waclaw's pain and sorrow for his lost friend. You feel how terrible the oil drilling business is, and how it crushes the men who work on the rigs." —Emily Burack, One of Hey Alma's Favorite Books for Fall 

"Kampmann and Posten write gorgeous sentences, lavishing descriptive attention on the light cast on bird feathers, the brass balustrades of a Budapest hotel, 'a sea bright as a blast furnace' . . . The most vivid and memorable character is the oil platform itself. Kampmann has an astonishing command of the details of life on an oil rig, and High as the Waters Rise can be read as oblique climate fiction . . . Kampmann brilliantly conveys the industry's reckless disregard for human life. The relationships she portrays best are not of friendship, love or family, but those between abusive systems and the people whose lives they extract, consume and wantonly discard." —Jane Yager, The Times Literary Supplement

"This is climate fiction—a genre that explores climate change in fictional narratives—at its best." —Amy Brady, Literary Hub

"The beautiful English–language debut from German poet Kampmann tells the story of a middle–aged oil rig worker's emotional crisis after the death of his friend . . . As Waclaw digs up memories of his drilling throughout the world—in Morocco, Mexico, and Brazil—he ruminates on generations of workers who must eke out a living by exploiting the earth and its resources. Kampmann captures the visceral uneasiness that arises from second guessing one's past." —Publishers Weekly

"In her debut novel, German poet Kampmann touchingly and intimately illustrates the fallout of capitalism's dependence on oil . . . This is a haunting exploration of the devastating costs all kinds of gig workers have to bear to feed themselves and the belly of the beast." —Booklist

"The story of a man at the edge, a story of displacement and existential loneliness told with restraint . . . A poet's novel in the richness of its imagery and the exquisiteness of the language." —Library Journal
Catapult, 9781646220823, 320pp.
Publication Date: September 28, 2021
About the Author
Anja Kampmann was born in Hamburg and resides in Leipzig. She wrote for radio before writing a dissertation on musicality and silence in the late works of Samuel Beckett. She is the author of a collection of poems in German. High as the Waters Rise is her first novel, for which she received the Mara Cassens Prize for best German debut novel, and the Lessing Promotion Prize. She was also awarded the Bergen–Enkheim prize and was nominated for the Leipzig Book Fair Prize and the German Book Prize.

Anne Posten translates prose, poetry, and drama from German. The recipient of a Fulbright Fellowship, her translations of authors such as Peter Bichsel, Carl Seelig, Thomas Brasch, Tankred Dorst, Anna Katharina Hahn, and Paul Scheerbart have appeared with New Directions, Christine Burgin/The University of Chicago, Music and Literature, n+1, VICE, The Buenos Aires Review, FIELD, Stonecutter, and Hanging Loose, among others. She is based in New York and Berlin.