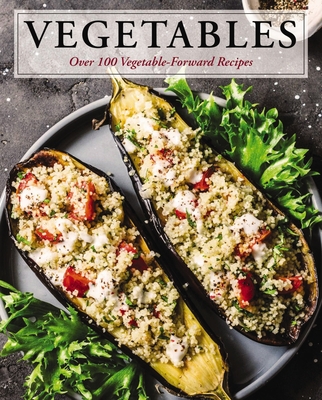 Vegetables
Over 100 Vegetable-Forward Recipes
Hardcover

* Individual store prices may vary.
Description
Vegetables features over 100 seasonal recipes to fill your diet with more vegetables.

No matter your dietary preferences, everyone agrees that including more vegetables in your meals improves health and benefits the planet. Learn how to make the best of what the season has to offer, from soups and salads to entrees, all in the name of eating more vegetables. The recipes in Vegetables: Over 100 Vegetable-Forward Recipes treat meat more like a flavor enhancer than a main ingredient, resulting in dishes that span the globe with flavors and techniques that will be right at home in your kitchen.
Cider Mill Press, 9781646430635, 256pp.
Publication Date: April 20, 2021
About the Author
Good ideas ripen with time. From seed to harvest, Cider Mill Press brings fine reading, information, and entertainment together between the covers of its creatively crafted books. Our Cider Mill bears fruit twice a year, publishing a new crop of titles each spring and fall. Cider Mill Press is an independent publisher of high-quality cookbooks, elegant wine and spirits projects, humorous parodies, classic children's books, and more. We're proud to publish many celebrated bestselling titles, including the #1 New York Times bestselling edition of The Night Before Christmas. Along with our children's imprint, Applesauce Press, we combine top-notch design, unique formats, and fresh content to create truly innovative gift books.