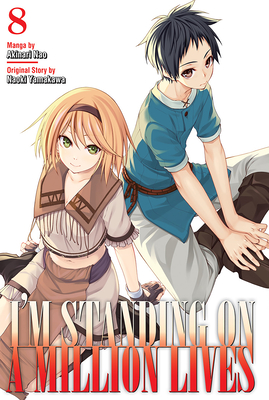 I'm Standing on a Million Lives 8
Paperback

* Individual store prices may vary.
Other Editions of This Title:
Paperback (5/28/2019)
Paperback (7/27/2021)
Paperback (9/8/2020)
Paperback (2/8/2022)
Paperback (3/16/2021)
Paperback (3/17/2020)
Paperback (11/19/2019)
Paperback (7/23/2019)
Paperback (9/17/2019)
Paperback (1/21/2020)
Description
The provocative action manga that's about to become a major anime! A teenage loner gets transported into a fantasy world with his two scary female classmates. The girls find themselves as a wizard and a warrior, but he's woken up as... a farmer?! How will be become a hero now? A new fantasy perfect for fans of Sword Art Online and That Time I Got Reincarnated as a Slime!

Yusuke Yotsuya doesn't care about getting into high school--he just wants to get back home to his game and away from other people. But when he suddenly finds himself in a real-life fantasy game alongside his two gorgeous classmates, he discovers a new world of possibility and excitement. Despite a rough start, Yusuke and his friend fight to level up and clear the challenges set before them by a mysterious figure from the future, but before long, they find that they're not just battling for their own lives, but for the lives of millions...
Kodansha Comics, 9781646510481, 192pp.
Publication Date: November 24, 2020
About the Author
Naoki Yamakawa is a writer who created the manga I'm Standing on a Million Lives with Akinari Nao. Yamakawa is also the creator of My Home Hero with Masashi Asaki. I'm Standing on a Million Lives is Yamakawa's first work to be translated into English.

Akinari Nao is a manga artist who debuted in 2006 with the manga adaptation of the light novel series Psycho Busters. Nao later illustrated the original manga Trinity Seven, which was adapted into light novels and a hit anime in 2014. I'm Standing on a Million Lives is Nao's first manga to be published in English.