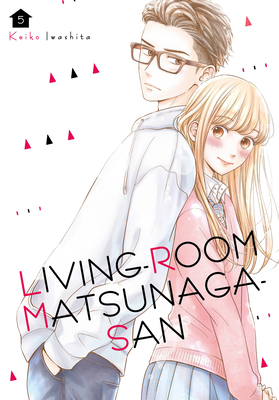 Living-Room Matsunaga-san 5
Paperback

* Individual store prices may vary.
Other Editions of This Title:
Paperback (1/4/2022)
Paperback (11/2/2021)
Paperback (9/21/2021)
Paperback (5/18/2021)
Paperback (3/24/2020)
Paperback (7/21/2020)
Paperback (1/28/2020)
Paperback (9/1/2020)
Paperback (3/1/2022)
Description
A romantic manga starring a high school girl who learns to live on her own, win at high school, and experience first love - all in a boarding house whose living room is home to the odd (but handsome) Matsunaga-san.

MATTERS OF THE HEART

High schooler Meeko continues to pine for Matsunaga-san, the hotheaded graphic designer whose room is across from hers in her uncle's boarding house. It seems no amount of secret ardor can get Matsunaga-san to notice, let alone return, her feelings. But as Meeko welcomes the start of a brand-new school term, a wave of shocking developments comes along with it. After a day trip with Matsunaga-san to Kitneyland leaves Meeko on cloud nine, she soon learns more about Matsunaga-san's past--and his connection to the mysterious "Konatsu," the woman who lived in the boarding house before Meeko...
Kodansha Comics, 9781646510542, 160pp.
Publication Date: November 17, 2020
About the Author
Keiko Iwashita is a shojo manga artist from Kanagawa Prefecture, Japan. Living-Room Matsunaga-san is her first series released in English.