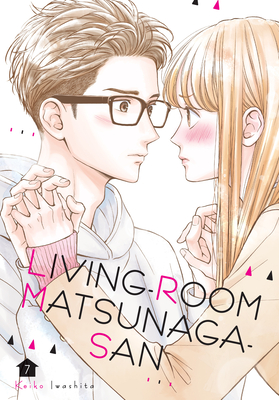 Living-Room Matsunaga-san 7
Paperback

* Individual store prices may vary.
Other Editions of This Title:
Paperback (1/4/2022)
Paperback (11/2/2021)
Paperback (11/17/2020)
Paperback (5/18/2021)
Paperback (3/24/2020)
Paperback (7/21/2020)
Paperback (1/28/2020)
Paperback (9/1/2020)
Paperback (3/1/2022)
Description
A romantic manga starring a high school girl who learns to live on her own, win at high school, and experience first love - all in a boarding house whose living room is home to the odd (but handsome) Matsunaga-san.

A FINE LINE

Life at her uncle's boarding house has become second nature to Meeko, and her housemates have come to feel like a second family to her...everyone except Matsunaga-san, whom Meeko's unrequited feelings for only continue to grow with each passing day. When Meeko's grandmother is suddenly in need of surgery, Meeko's mother asks Matsunaga-san to fill in for her at Meeko's upcoming parent-teacher conference—which wouldn't be so awkward if Meeko's homeroom teacher, Kobayashi-sensei, weren't Matsunaga-san's ex! Then, after Matsunaga-san asks to spend Christmas with her, Meeko decides to confess her feelings to him...except she isn't the only one who plans to confess their love!

Kodansha Comics, 9781646510566, 176pp.
Publication Date: September 21, 2021
About the Author
Keiko Iwashita is a shojo manga artist from Kanagawa Prefecture, Japan. Living-Room Matsunaga-san is her first series released in English.