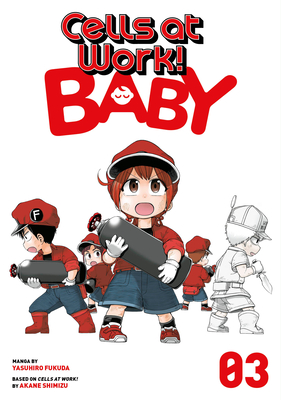 Cells at Work! Baby 3
Paperback

* Individual store prices may vary.
Description
It's no easy feat to keep a body happy and healthy, so even the newest cells have their tiny hands full! Join these cute baby cells as they work hard within their infant body, in this adorable spinoff of Cells at Work! Perfect for fans to read or share with kids who enjoyed the original series.

THE STRUGGLES ARE REAL


A lot has happened since the baby's left the womb, but things are only just starting to ramp up! Where does this oxygen delivery go? What's that mysterious white liquid pouring into the stomach? Oh no, a bacteria invasion again?! Wait, how come the IgG antibodies from the mother aren't working?! But they were just fine before! Everything is a confusing learning process for these young cells, from patching up diaper rash wounds to digesting breast milk. But they gotta pick things up fast if they want to protect the baby's body. It's yet another hard day's work for the little ones!


Kodansha Comics, 9781646512416, 144pp.
Publication Date: February 8, 2022
About the Author
Akane Shimizu is the acclaimed creator of Cells at Work!, the manga that dramatizes the action inside a human body. The work has seen manga spinoffs, a stage play adaptation, and a global hit anime, released by Aniplex, Crunchyroll, Funimation, and Netflix in the US.

Yasuhiro Fukuda debuted in 2013 with Saikyo Shojo Sayuri before drawing Mado Kara Madoka-chan in 2017. Fukuda's latest work and English-language manga debut is Cells at Work! Baby.