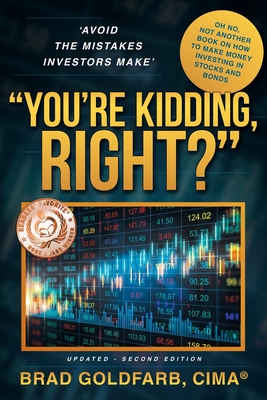 You're Kidding, Right?
Paperback

* Individual store prices may vary.
Other Editions of This Title:
Hardcover (10/25/2021)
Description
Retired early 2020, Brad Goldfarb was a successful financial advisor for thirty-five years. During his career, he received many requests and questions from his clients. This book is based on thirty of those actual questions where the only possible response is "You're kidding, right?"
From his studies throughout his career, Brad recognized there was a common thread behind these thoughts and questions; they seemed to come from client's emotions and not necessarily rational thinking. Recognizing that these thoughts are common, Brad knew he could help investors from making mistakes that prevent them from consistently making money long term. Behavioral Economics is the Nobel prizewinning theory behind what leads investors to make emotional and irrational investment decisions.
During his career, Brad has appeared on both radio and TV numerous times and lectured many audiences and financial advisors on some of the advanced analytical techniques he learned about Modern Portfolio Theory (MPT), risk measurement, and asset allocation when he earned the Certified Investment Management Analyst (CIMA) designation taught in conjunction with the prestigious Wharton Business School in Pennsylvania. He knew he could simplify this knowledge, so every investor could easily understand and apply it to their own strategy.
This book was not written to offer specific advice to investors. It was not written with the idea of do-it-yourself. It was written to educate and enlighten investors to allow them to work more collaboratively with their financial advisor.
Brad hopes you will use this book to gain a better understanding of asset allocation and risk so you can avoid the mistakes so many make during downturns and turmoil in the financial markets.
Fulton Books, 9781646546558, 218pp.
Publication Date: October 25, 2021