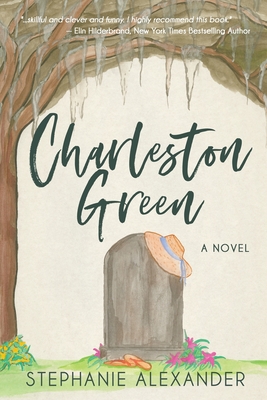 Charleston Green
Paperback

* Individual store prices may vary.
Description
2020 Publisher's Weekly BookLife Prize Quarter Finalist for Fiction
2020 Readers' Favorite Book Awards Silver Medalist for Paranormal Fiction
"I am always on the lookout for exciting new writers, and once I started reading Charleston Green by Stephanie Alexander, I was captivated. This novel leaves the reader entranced; the writing is skillful and clever and funny. I highly recommend this book." -New York Times Bestselling Author Elin Hilderbrand
"With humor, heart and a heaping helping of Southern Charm, Charleston Green brings an entirely new meaning to the term 'unwanted house guests.' Tipsy is a lovable, flawed, complex heroine that readers will root for from the first page to the last-and pitch-perfect storytelling will leave fans begging for a sequel. This is Stephanie Alexander at her best " -USA Today Bestselling Author of Feels Like Falling, Kristy Woodson Harvey
If Tipsy Collins learned one thing from her divorce, it's that everyone in Charleston is a little crazy-even if they're already dead.
Tipsy, a gifted artist, cannot ignore her nutty friends or her vindictive ex-husband, but as a lifelong reluctant clairvoyant, she's always avoided dead people. When Tipsy and her three children move into the house on Bennett Street, she realizes some ghosts won't be ignored.
Till death do us part didn't pan out for Jane and Henry Mott, who've haunted the house for nearly a century. Tipsy's marriage was downright felicitous when compared to Jane and Henry's ill-fated union. Jane believes Henry killed her and then himself, and Henry vehemently denies both accusations. Unfortunately, neither phantom remembers that afternoon in 1923. Tipsy doesn't know whether to side with Jane, who seems to be hiding something under her southern belle charm, or Henry, a mercurial creative genius. Jane and Henry draw Tipsy into their conundrum, and she uncovers secrets long concealed under layers of good manners, broken promises and soupy Lowcountry air. Living with ghosts, however, takes a toll on her health, and possibly even her sanity. As she struggles to forge a new path for herself and her children, Tipsy has a chance to set Jane and Henry free, and release the ghosts of her own past.
Bublish, Inc., 9781647040505, 362pp.
Publication Date: April 14, 2020