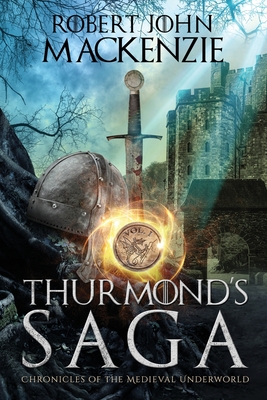 Thurmond's Saga
Paperback

* Individual store prices may vary.
Description
"A promising series opener that's a fantasy page-turner and compelling coming-of-age tale." -Kirkus
Thurmond, an unlikely hero, may be young and poor, but he dreams of fighting with the famed Brotherhood of Underworld Adventurers, an elite group of warriors that slay monstrous creatures for the promise of gold. When his lack of skill leads the Brotherhood to reject him, Thurmond sets out undeterred to gain experience in the grungy, medieval streets of Gorgonholm.
There, he steals a map leading to a legendary goblin treasure and recruits other outcasts to accompany him on his quest: Sarah, a young witch; Roscoe, an ex-Adventurer; and Torgul the dwarf. As they set off on their perilous journey, two groups of rival treasure-seekers plan to steal the riches, putting Thurmond and his companions in grave danger. When they arrive at the end of the map, they realize that they've been followed and, worse, the goblin treasure is hidden in a labyrinth guarded by vicious creatures. Suddenly, the quest is more complicated and dangerous than the crew could have ever imagined.
Filled with fascinating historical details and a few supernatural surprises, this action-packed debut novel will have you on the edge of your seat as Thurmond and his band of misfits try to escape a rotting goblin den and make it back home with their lives intact.
Bublish, Inc., 9781647041250, 446pp.
Publication Date: October 20, 2020