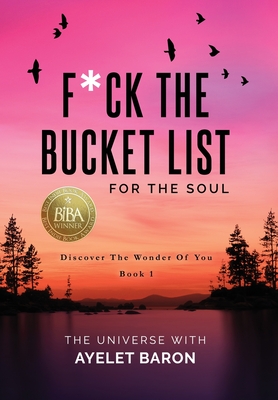 F*ck the Bucket List for the Soul
Discover the Wonder of You
Hardcover

* Individual store prices may vary.
Other Editions of This Title:
Digital Audiobook (4/1/2021)
Paperback (9/29/2020)
Description
"More often than not we forget we're on a journey of our own choosing. This excellent book gives us a compass for finding joy, meaning, and fulfillment on our own terms."
- Jonas Koffler, New York Times bestselling coauthor of Hustle: The Power to Charge Your Life with Money, Meaning, and Momentum
"This book is especially timely in this volatile era where living a healthy, meaningful, and uplifting life by understanding more deeply one's self and thus one's ability to do so makes this book a must-read. I was touched by the specific, actionable insights and examples Ayelet Baron provides to put us on that path."
- Kare Anderson, Emmy-winning journalist, author and TED speaker. Kare's TED talk (over 2.5 million views) on Opportunity Makers TEDx talk on mutuality, also books: Mutuality Matters and Opportunity Makers.
The universe is full of wonder and wisdom... and so are you.
All around us-in nature and deep within our hearts-exist endless opportunities to learn, create, unlearn, overcome, contribute, love and be. You find yourself wondering whether there's much more to life than you were told. But often, we are so immersed in the chaotic pursuit of "success" as defined by society that we simply don't make time to experience the universe's wonder and wisdom and to trust our inner connection to it. If you are ready for this to do your inner work, then join us on a journey of a lifetime.
- Would you like to unlock the vast possibilities of your life?
- Are you willing to question everything in order to unleash the power of your own imagination?
- Are you open to living a more intentional life in which you consciously decide what is uniquely healthy for your mind, body, and soul, and let go of what is unhealthy?
Leave behind the exhaustion, overwhelm, burnout, stress, anger, fear, blame and judgement of society's decaying systems and reveal yourself to the universe in all your wonder. Life will never be the same. The journey will be intense. It is not for the faint of heart. But as you learn how to access and trust the universal wisdom within your own heart, your life will begin to shift dramatically. We are here to create, not suffer through outrage and despair. We are born to color the world with our vivid imagination and live in unity, not conformity or uniformity. Come and learn how to unlock your calling. Join author, futurist and healer Ayelet Baron, in the first of a series of three books, as she takes you on a journey deep inside yourself in which you will learn to trust the currents, live the life you were meant to live, and become the courageous pioneer our world needs right now.
Heartpickings Press, 9781647041878, 248pp.
Publication Date: October 2, 2020