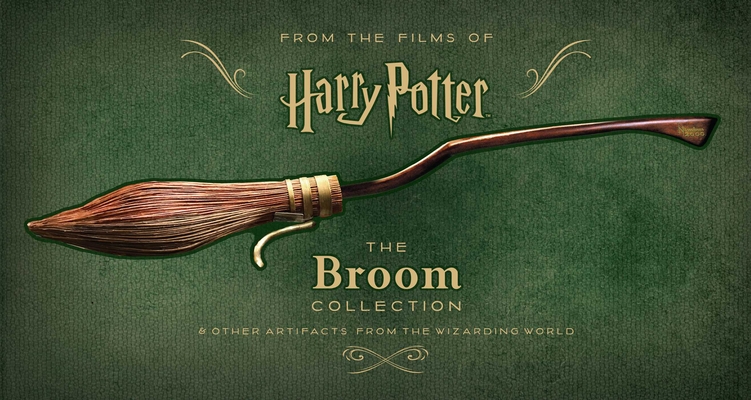 Harry Potter
The Broom Collection: & Other Props from the Wizarding World
Hardcover

* Individual store prices may vary.
Description
Discover the brooms of the Wizarding World in this gorgeous sequel to the best-selling Harry Potter: The Wand Collection.

Every broom has a story of its own.

In the Harry Potter films, wizarding broomsticks are magical artifacts that enable their riders to soar from one place to another. They can be used to dodge dragons, escape Death Eaters and other Dark forces, or take to the skies for an action-packed Quidditch match.

Harry Potter: The Broom Collection is a visual guide to these magical artifacts, their makers, and their riders. Profiles of each broom feature stunning new illustrations of the original props, insights from cast and crew, and other filmmaking secrets from the Warner Bros. archive. Also included are fascinating entries on Quidditch, illustrated with prop photography and concept art, with profiles on everything from the Golden Snitch to the Quidditch World Cup.

This collectible volume is an ideal resource, both for veteran fans seeking to learn the history behind these beloved items and for a new generation just beginning their journey into the wizarding world.
Praise For Harry Potter: The Broom Collection: & Other Props from the Wizarding World…
"This unique window into broom-lore contains more concept art, information on prop-making and shooting Quidditch matches, and even a look at brooms from Fantastic Beasts, among other treats." -
— The Leaky Cauldron

Quidditch fans, muggles, and even those who dabble in the Dark Arts will be charmed by this well-designed and regal looking book. The broomsticks and their riders are presented beautifully with a little lesson brought to life with concept art and photographs of the movie cast. We have been charmed by this book and believe you will be, too!
— The Children's Book Review

Gives readers an enchanting look at some of the most beloved magical objects in the wizarding world of Harry Potter — brooms!
— Avery and Augustine

"Do magical modes of transportation fascinate you? Are you curious about the variety of flying broomsticks featured in the Potter series? Do you want another cool addition to your collection of Harry Potter companion books? Then Harry Potter: The Broom Collection is the book for you."
— Mugglenet
Insight Editions, 9781647220266, 152pp.
Publication Date: October 27, 2020
About the Author
Scott Campbell, sometimes known as Scott C., is the creator of the GREAT SHOWDOWNS online series and Double Fine Action Comics. He was art director and concept artist at Double Fine Productions on such games as Psychonauts, Brutal Legend, and Broken Age. His illustrated picture books include Zombie in Love, Zombie in Love 2 + 1, East Dragon West Dragon, XO, OX: A Love Story, Bob Dylan's If Dogs Run Free and Hug Machine, in which he has written the words as well as created the pictures. Scott lives in New York City.