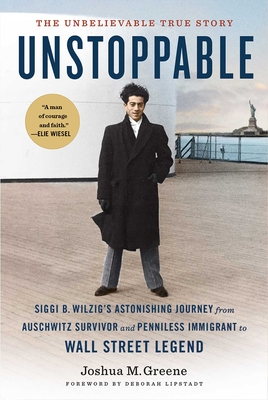 Unstoppable
Siggi B. Wilzig's Astonishing Journey from Auschwitz Survivor and Penniless Immigrant to Wall Street Legend
Hardcover

* Individual store prices may vary.
Description
Unstoppable recounts the fascinating life of Siggi Wilzig, who survived the hell of Hitler and Auschwitz to become one of the biggest success stories in post-World War II American business—a true embodiment of the American Dream. At a time of national division, this testament to the triumph of the human spirit over horrific tragedy through fortitude and faith offers an inspiring message that will both resonate with readers today and offer enormous hope for a better future.

Unstoppable is the story of an American hero—a man who survived the hell of Auschwitz to become one of the most successful, mesmerizing, and outrageous personalities in postwar America. Siggi Wilzig was a force of nature: a Holocaust survivor who arrived in New York penniless and without formal education at just twenty one years old yet went on to build a $4 billion oil-and-banking empire. This is the ultimate immigrant story, an epic rags-to-riches adventure that follows Siggi from starvation on death marches to dinner at the White House—a story that starts in Auschwitz and ends with one of the most lucrative bank sales in Wall Street history. A survivor's saga in a category of its own, Unstoppable does not dwell on tragedy, but instead celebrates Siggi's ingenuity, hope, resolve and message: no matter how cruel or unjust the world may be, humans can overcome the past to achieve a bright future.
Insight Editions, 9781647222154, 352pp.
Publication Date: April 6, 2021
About the Author
Deborah E. Lipstadt, the Dorot Professor of Modern Jewish History and Holocaust Studies at Emory University, is one of the world's leading authors and scholars of Holocaust history. Her successful court case against Holocaust denier David Irving was portrayed in the 2017 film Denial.