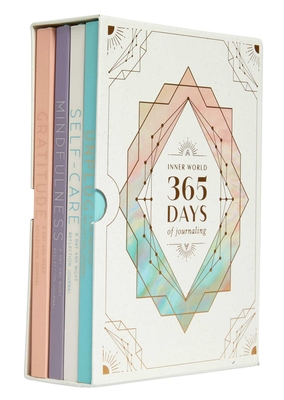 Inner World 365 Day Journaling Boxed Set
Paperback

* Individual store prices may vary.
Description
The best-selling A Day and Night Reflection Journal series is now available in this beautiful four-piece journal boxed set. Together, these journals provide 365 days of daily journaling on the subjects of Gratitude, Self-Care, Mindfulness, and Unplugging. With this journal set, you can begin on any day of the year, and make a new 365-day resolution to positively impact your mood, health, and stress levels. It makes a thoughtful gift for anyone looking to improve their overall quality of life.

Includes the following journals:

Unplug: A Day and Night Reflection Journal is a conscious tool to help you track and record your screen time and your non–screen time, giving you space to plan and reflect on habits and activities that don't include technology. Designed as a 90-day support system for your digital detox plan, it is the perfect journal for those trying to disconnect from their phones and reconnect with themselves.

Mindfulness: A Day and Night Reflection Journal is the perfect companion for anyone trying to stay present and live mindfully. This 90-day journal offers a flexible guided template for tracking and recording the effects of your practice. There are opportunities to record your goals, your obstacles, the types of activities you did, the types of distractions you faced, the meditation you practiced, and more.

Self-Care: A Day and Night Reflection Journal offers a space to commit to your self-care routine with intention and dedication—helping you develop positive thinking, overcome challenging and stressful experiences and negative emotions, and cultivate a general sense of well-being and a healthy lifestyle. This 90-day journal gives you a path to creating a habit of regular self-care by providing a place to record your thoughts and activities and consider how they affect your emotional and physical health.

Gratitude: A Day and Night Reflection Journal will help you center your day around positive feelings and gratitude. It's the perfect place to record and celebrate anything that you are grateful for and to preserve important memories. This journal gives you a path to creating a habit of daily gratitude that you can carry with you throughout your life. This 90-day journal includes 6 additional bonus days, for a total of 96 days of journaling.
Insights, 9781647222635, 184pp.
Publication Date: November 10, 2020
About the Author
Scott Campbell, sometimes known as Scott C., is the creator of the GREAT SHOWDOWNS online series and Double Fine Action Comics. He was art director and concept artist at Double Fine Productions on such games as Psychonauts, Brutal Legend, and Broken Age. His illustrated picture books include Zombie in Love, Zombie in Love 2 + 1, East Dragon West Dragon, XO, OX: A Love Story, Bob Dylan's If Dogs Run Free and Hug Machine, in which he has written the words as well as created the pictures. Scott lives in New York City.