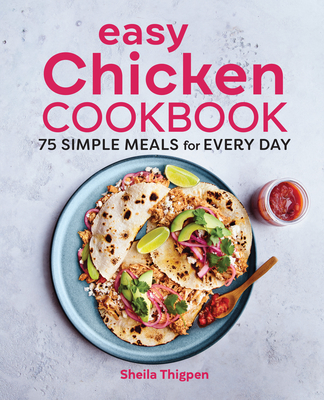 Easy Chicken Cookbook
75 Simple Meals for Every Day
Paperback

* Individual store prices may vary.
Description
Winner winner chicken dinners (and more)-75 beginner-friendly recipes with minimal prep
When it comes to making flavorful, weeknight-friendly meals, there's no ingredient as deliciously versatile as chicken. The Easy Chicken Cookbook is packed with simple recipes that turn the humble chicken into a crowd-pleasing superstar. From snacks and appetizers to lunches and dinners, there's a chicken-focused favorite for home cooks of every expertise level.
This unique chicken cookbook offers recipes organized by convenience: 5 ingredients or fewer, 30 minutes or less, one pan, one pot, and pressure cooker or slow cooker. A mix of classic and contemporary dishes-Hot-Honey-and-Garlic-Glazed Drumsticks, Pad Thai with Crunchy Peanuts, and Pan-Seared Lemon-Pepper Chicken Breasts-use simple, everyday ingredients.
The Easy Chicken Cookbook includes:
Bird basics-Learn about classic chicken cuts, how to safely handle and store chicken, and beyond.
Spice it up-Explore 12 super easy sauces and sides that'll help you take your dishes to the next level with this standout chicken cookbook.
Clear-cut recipes-Discover a convenient index that lists recipes by chicken cut so you can create a meal with the ingredients you have on hand.
Bake, broil, braise, and poach your way to perfect chicken at home-The Easy Chicken Cookbook will show you how
Rockridge Press, 9781647392109, 154pp.
Publication Date: August 4, 2020
About the Author
Sheila Thigpen is the creator of the blog Life, Love, and Good Food, as well as the author of The 5-Ingredient Fresh and Easy Cookbook. Her work inspires home chefs to spend more time in the kitchen-and around the family dinner table-with quick and easy recipes, beautiful photography, clear instructions, and tips for cooking success.