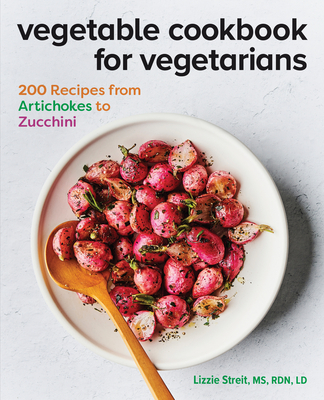 Vegetable Cookbook for Vegetarians
200 Recipes from Artichokes to Zucchini
Paperback

* Individual store prices may vary.
Description
200 Fresh and flavorful ways to eat your veggies in one tasty vegetable cookbook
Pure and simple: vegetables are good for you-and we're all looking for appetizing ways to eat more of them. A celebration of flavors, textures, and colors, vegetables offer an endless array of culinary possibilities. The Vegetable Cookbook for Vegetarians has everything you need to take your veggie-based cooking to the next level with dishes that let the natural vibrancy of your vegetables shine.
Packed with hundreds of tasty vegetable-forward meals, sides, and snacks, this vegetable cookbook will show you just how much you can do with nature's bounty. Discover the freshest vegetable for each season, plus must-have tools and pantry essentials. Explore detailed flavor profiles-including how to prepare each veggie and some popular pairings-before cooking up flavorful dishes like Sweet Corn Risotto and Braised Eggplant Shakshuka. -
The Vegetable Cookbook for Vegetarians includes:
Garden variety-From artichokes to brussels sprouts and beyond, this vegetable cookbook covers recipes from A to Z featuring 50 of the most popular vegetables under the sun.
Spill the beans-Get to know each vegetable through flavor profiles in this vegetable cookbook, including step-by-step guidance on buying, storing, preparing, and various cooking methods.
Easy peasy recipes-Enjoy 200 delectable veggie-based dishes, including sides like Baked Asparagus Fries and mouthwatering mainstays like Zucchini Taco Boats.
Dig into hundreds of delightfully fresh and flavorful dishes with the Vegetable Cookbook for Vegetarians.
Rockridge Press, 9781647393335, 308pp.
Publication Date: November 10, 2020