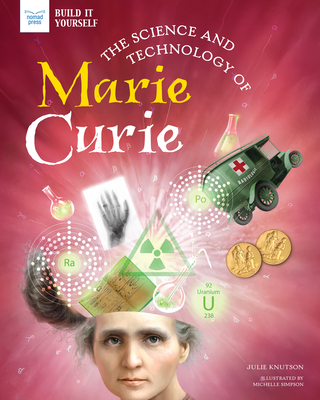 The Science and Technology of Marie Curie (Build It Yourself)
Paperback

* Individual store prices may vary.
Other Editions of This Title:
Hardcover (6/15/2021)
Description
Finalist for the 2021 AAAS/Subaru SB&F Prize for Excellence in Science Books in the Hands-on Science Book category
Science
Knutson's book brims with sidebars on topics ranging from the structure of the atom to the bicycling craze of the 1890s.

School Library Connection
"Every STEM teacher and school librarian should absolutely add this title to their collections."

A science biography that delves into the world of Marie Curie, a person who revolutionized the way we perceive the universe while getting the world to question gender roles and social norms. Follow in her footsteps with hands-on STEM activities
In
The Science and Technology of Marie Curie
, readers ages 9 through 12 explore Curie's groundbreaking scientific research in physics and chemistry and discover how her work forced people to rethink the very structure of the surrounding world and the role of women within it. Her commitment to understanding things the human eye can't even see led to the discovery of two new elements--polonium and radium--and to the birth of a new field of research around radioactivity. In the process, she was the first woman to earn a Nobel Prize and the only person ever to win two Nobel Prizes in two different scientific fields, all as she reset society's ideas about women's roles in society. By learning about the work of Marie Curie, kids gain insight into the atomic universe through hands-on STEM activities, essential questions, text-to-world connections, and links to online resources that encourage readers to take a closer look into everything going on around them.
The Science and Technology of Marie Curie
is part of a set of three Build It Science Biographies that capture the curiosity of three science revolutionaries who were able to glimpse beyond the limits of human experience and make discoveries that continue to resonate today. Other titles in this set include
The Science and Technology of Leonardo da Vinci
and
The Science and Technology of Ben Franklin
.
Nomad Press (VT), 9781647410223, 128pp.
Publication Date: June 15, 2021
About the Author
Julie Knutson is an author and educator with a wide-ranging background in history and the social sciences. She is the author of Global Citizenship: Engage in the Politics of a Changing World and World War I: The Great War to End All Wars from Nomad Press. She holds an undergraduate degree in cultural studies from NYU, a master's degree in political sociology from The London School of Economics, and additional post-graduate degrees in education and art history from Rice University. Julie is an active member of the National Council for the Social Studies and a member of the Society of Children's Book Writers and Illustrators. Michelle Simpson is a professional Canadian illustrator who illustrated The Science of Weather and Climate for Nomad Press. Michelle has also written and illustrated Monsters in My House and Night Festival. She has also worked as a concept artist for children's tv shows Ollie: The Boy Who Became What He Ate Season 2, and Tee and Mo. Most of her inspiration comes from nature and folklore.