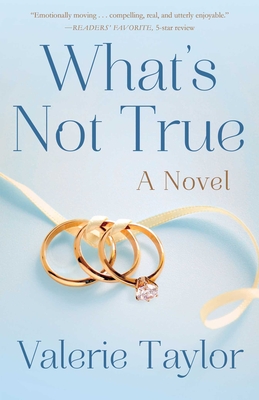 What's Not True
Paperback

* Individual store prices may vary.
Description
In her second novel, Valerie Taylor--award-winning author of What's Not Said--gives readers another romantic comedy interwoven with forbidden love, infidelity, and family. With the court date set for her divorce and the future she'd planned with a younger man presumably kaput, Kassie O'Callaghan shifts attention to reviving her stalled marketing career. But that goal gets complicated when she unexpectedly rendezvous with her former lover in Paris. After a chance meeting with a colleague and a stroll along Pont Neuf, Kassie receives two compelling proposals. Can she possibly accept them both? Kassie's decision process screeches to a halt when her soon-to-be ex-husband has a heart attack, forcing her to fly home to Boston. There, she confronts his conniving and deceitful fianc e--a woman who wants not just a ring on her finger but everything that belongs to Kassie. In the ensuing battle to protect what's legally and rightfully hers, Kassie discovers that sometimes it's what's not true that can set you free.

She Writes Press, 9781647421571, 336pp.
Publication Date: August 24, 2021